Marketing automation is without doubt the most effective way to implement and maintain an inbound marketing strategy. In it's most basic form, marketing automation enables businesses to centralise their marketing efforts into one software, from content creation and distribution to lead generation, lead nurturing and performance measurement. While you can manually build and maintain an inbound strategy, without the help of software, it takes time (and a lot of reminder notifications) to make sure you execute all the necessary steps in the inbound cycle and at the right time!
As a HubSpot Partner Agency, having successfully delivery inbound marketing strategies using HubSpot for the past four years, we've seen first hand the benefits it has provided for ourselves and our clients. Here's a few that we think makes HubSpot stand out above the rest…
Integrated CRM
HubSpot's integrated CRM makes it easy for marketers and sales professionals to maintain and nurture relationships with prospects and customers. Having your social media accounts and website integrated to the CRM allows you to track which pages your prospects are viewing, which CTAs they click, how they interact with your emails and what forms they fill in. This integration makes it easier to build a profile on your potential customers, helping you gauge what content they like and what products or services they're interested in. It also makes communication between you and your contacts easier, consolidating all correspondence in the one place.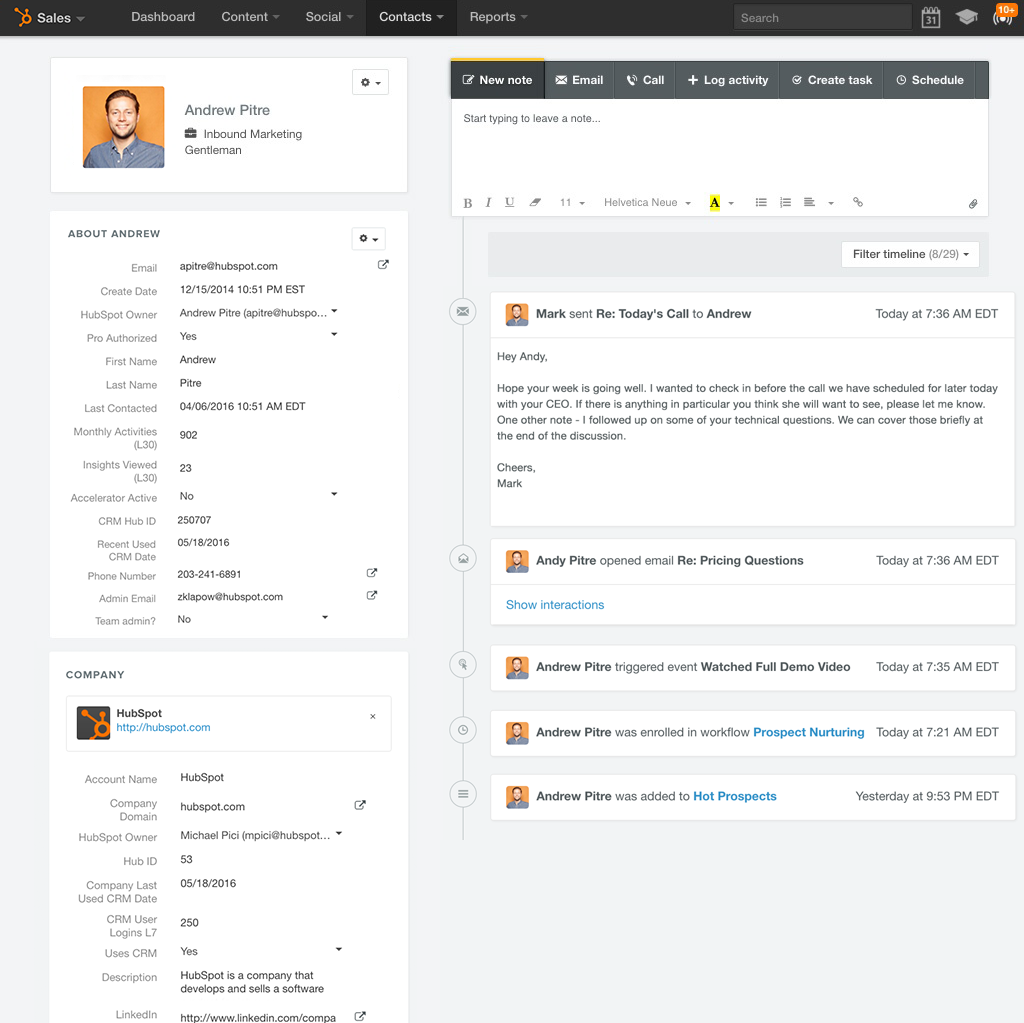 Source: www.hubspot.com/hubspot-crm-agencies
Easy Usability
In comparison to similar automation software, the HubSpot platform is designed with ease of use in mind. It's straightforward to navigate around the portal to find the tools you need and their reporting feature is intuitive, making it easy to measure the ROI of your inbound efforts. So, while it's great to have a dedicated web specialist team member, HubSpot's interface and tools can be easily adopted by your marketing team.
Read also why Hubspot has better usability than Pardot
Create Landing Pages & CTAs
Create, test and optimise Landing Pages and Call to Actions (CTAs) for every device type, without the need for designers or support from IT. HubSpot offer a range of Landing Page templates to choose from, or, you can build your own page from scratch. While you need to understand the theory behind what makes an enticing CTA or a high converting Landing page, HubSpot's easy to use on page editors and ease of designing CTAs make the process a breeze!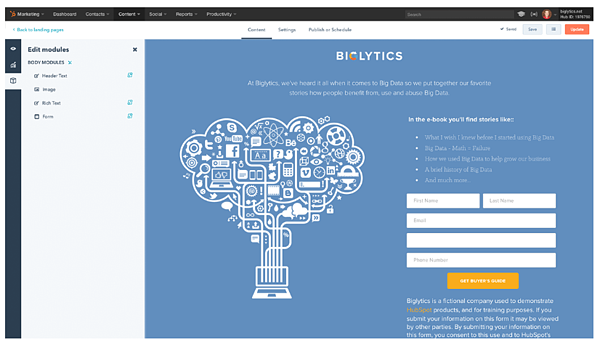 Creating a Landing Page on HubSpot; Source: lean-Labs.com
HubSpot Can Be Integrated With Other Platforms
If your website is currently run on Wordpress, for example, you may have had the preconceived notion that you couldn't use HubSpot too. Never worry, HubSpot can in fact be easily integrated with other software, allowing you to manage your website maintenance on one platform and use HubSpot to automate your marketing processes.
SEO Made Easy
Search Engine Optimisation (SEO) is difficult to master for non – specialists. Luckily, if you don't have an in-house expert, HubSpot's inbuilt SEO features can help you manage the basics. Features enable you to track keywords and create SEO friendly content that will improve your websites ranking. When building landing pages or writing blog posts, HubSpot's optimising tool includes a handy checklist to make sure you've covered all the essential elements of an optimised inbound page.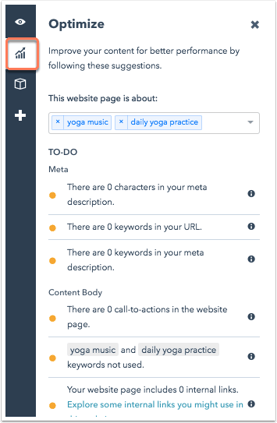 Optimise your page and blog content for search engines; Source: Hubspot.com
Lead Nurturing
Lead nurturing is a crucial part of a successful inbound strategy, and with HubSpot, it couldn't be easier to turn your prospects into customers with automated email workflows. Manually sending individual emails to all contacts who carry out a specific action on your website is time consuming and inefficient. HubSpot enables marketers to automate this process through email workflows, which are triggered off a user's website activity, such as downloading content, signing up for a newsletter, or making a purchase. In longer sales cycles, people rarely buy instantly. Email nurturing is timely and seamless, working in the background to build trust with prospects over time until they are ready to make a purchase.
Read: Advantages of Working with a HubSpot Partner
HubSpot's all in one marketing automation platform has proven to help companies thrive through maximised efficiency, performance tracking and measurement as well as meeting the needs of your target customers. HubSpot gathers the information that matters from all your marketing activities, providing you with the necessary data to drive your future campaigns.