Running a Social Media campaign can throw up a lot of curveballs that can make you panic.
One of those curveballs comes in the form of content publishing. You've probably seen this stumbling block come in the form of a few questions.
How often do I post content? What platform should I use? Often feeling like there's too much going on within Social Media to keep up, it can be a deterrent for marketeers to diversify their channels or even engage in Social marketing at all.
Never fear however as there are an abundance of social scheduling tools out there who can help automate the process with zero cost, and we're going to outline some of the best ones in 2020.
Buffer
First of all let's take a look at Buffer.
It's a great tool for automating your social posts and comes as well in App form. As you can see from the above you have a wide choice range of social platforms right at your fingertips to choose from.
The app also comes with analytics tools which enable you to track your audience's activity and figure out when it is the best time for you to post in the future.
Hootsuite
Second on our list of top free social scheduling tools is Hootsuite.
Probably the most popular social scheduling platform available and certainly that popularity is warranted due to its ease of use and versatility.You can use it to schedule post, receive in-depth reports, and collaborate with your team members, thanks to built-in team work features.
It's a perfectly suitable tool to diversify and build on your social strategy and gives feedback comprehensively, all without costing a penny.
Read: 5 Lead gen tactics for Social Media
Later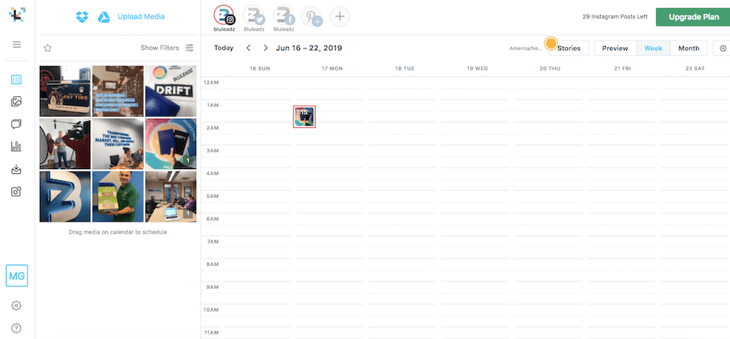 Later is a free, easy-to-use platform for starter businesses looking to schedule photos and videos on their social media. (You cannot schedule text-only posts with Later.)
A free plan provides you with 30 posts per month per profile, 1 Social Profile per platform, including Instagram, Twitter, Facebook, and Pinterest, and 1 User. Video posts and Instagram carousel posts are not included in the free plan.
For marketers on the go, Later even has a free app you can download for Android or iOS. A big plus with this app is its Instagram preview feature.
Tweetdeck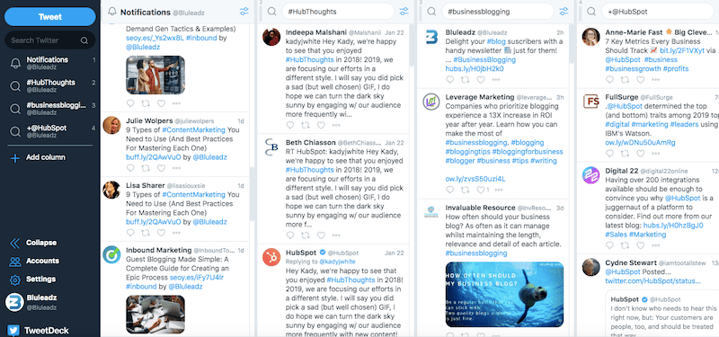 Twitter has been one of the most engaging social platforms we've seen evolve over the past decade and with it has come opportunity for content creators and marketeers alike - however it can be a bit difficult to cut through the noise.
Tweetdeck helps with that. This management tool allows you to remove some of the noise, making the time you spend researching and engaging on the platform much more efficient.
TweetDeck also allows you to create a customised interface where you can monitor specific users, hashtags, your own channel list, or search terms. If you're a serious Twitter user, you'll love TweetDeck.
SocialPilot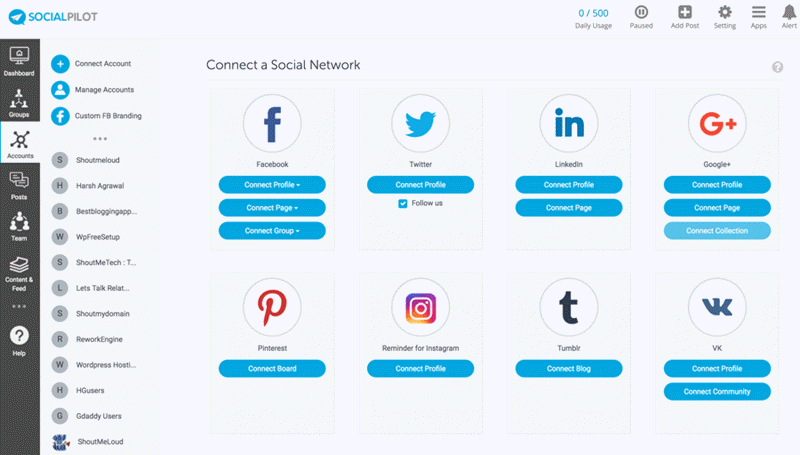 Last but certainly not least on this list of 5 free social scheduling posts to look out for is SocialPilot.
Like most on this list, it comes in different versions ranging from the free (obviously) and several bigger plans which reflects your business needs. (Small team, professional and enterprise). What's great about SocialPilot is the fact that it steps outside the traditionally sphere of popular social media and encourages posting across diverse platforms.
The service allows you to collaborate using a message inbox, manage and report using analysis at dashboards and gives the opportunity for scheduling in bulk.
There are a number of great options out there when it comes to Social Scheduling and of course you don't have to pay for most of them, however, the offer of a free trial on some of the best listed for 2020 could entice you to extend that to premium accounts.
Be sure to try some of them out!