Whether or not you're just starting your journey into Social Media Marketing or you're a veteran, it's vital to know what delivers strong lead generation.
But before we start, let's first start with the big question;
What is a lead?
To put it simply, leads are your potential customers who have an interest in your brand, product or service you provide.
These leads will have given you access to certain contact information which allows you to either pass on info directly to your sales team, or gives you an opportunity to deliver a bespoke marketing campaign for.
Sitting within this marketing campaign, should, if not already, be your social media strategy.
How does lead generation tie in with Social Media?
Statistics show that 76% of buyers will respond to contact via social media, whilst over 90% are likely to avoid cold calls.
This makes it even more so poignant that your contact with your sales team is aligned with your marketing strategy.
As you can build and nurture your leads through a strategy which is tailored to each need and few are more effective than a polished social media strategy.
Read: 5 Essential Facebook Ads Audiences
5 Lead Generation tactics for Social Media
So with this in mind, we're going to run through some of the best ways in which you can effectively nurture leads through a social media campaign.
1. Differentiation is key
It's one thing to push content on your social channels. It's another to fully engage and create a diverse selling point.
That's not to say that content isn't effective, in fact it's one of the strongest methods for organic growth, however if you want to push for more quality leads then providing alternative communication means is vital.
Why should I use this tip?
Webinars, live videos & GIFs are a brilliant tool for getting creative and differentiating from your competitors.
In providing alternative routes to your messaging, you also allow access to more lead gen tactics such as contests, gated content or discussions.
Which leads us to our next point:
2. Incentivise your offering
Before we go further, you need to understand that just by providing an incentive or a competition prize for your audience you need to make sure it is worthy.
What that means is that a contest or a promotion needs to worth entering for, and also feasible.
Why should I use this tip?
Although this tactic doesn't fit all marketing campaigns it is multi-faceted in being able to pull in wide audiences if incorporated with a 'Share to win' or 'retweet, hashtag, tag' content messaging.
If ran effectively, a contest or prize offering will travel far and do the majority of your leg work in raising brand awareness.
3. Social Listening & Learning
Social Listening is a great way of understand your prospects for effective lead generation but it's also applying this to your offering.
For example, if you're a local business and you want to push your social messaging to the right audience then what's the point aiming for a wider audience when your consumer is at your doorstep?
That's where being specific in targeting search comes into social media marketing - and is a great way of driving lead generation.
Why should I use this tip?
The beauty of social media is that sharing of information and consumer need is, for the most part, voluntary, and a targeted search campaign means you can nurture leads easily.
Platforms such as Hubspots Social Stream allow you to exclude keywords and search terms which then let you focus on the content that matters to your business and lets you refine it.
4. Use Social Ads
Pretty far down the list here, probably because it's a bit of a no-brainer, however it's importance in generating valuable leads is hard to ignore.
Why should I use this tip?
Facebook, Twitter and Instagram Ads are a sure-fire way to hit your target audience. Although unlike Organic they come at a cost. They offer a 'lead gen' form of ads.
These allow marketers to collect direct leads with targeted marketing to social media users right on the platform. They don't have to click those ads and move to a landing page to fill a form. The process is simple.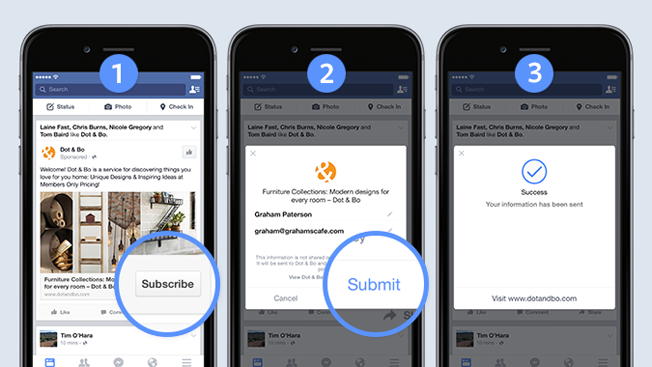 In doing the above, you can easily store potential leads without them having to leave their chosen channel, which can often cause users to bounce off your site.
5. Customise your Facebook tabs
You don't need telling that it's important for lead generation on social media to have a Facebook Business page, however what if you're not really making the most of it?
Why should I use this tip?
A large amount of Facebook business pages don't fully utilise the benefits, one of which is the ability to customise your home page tabs.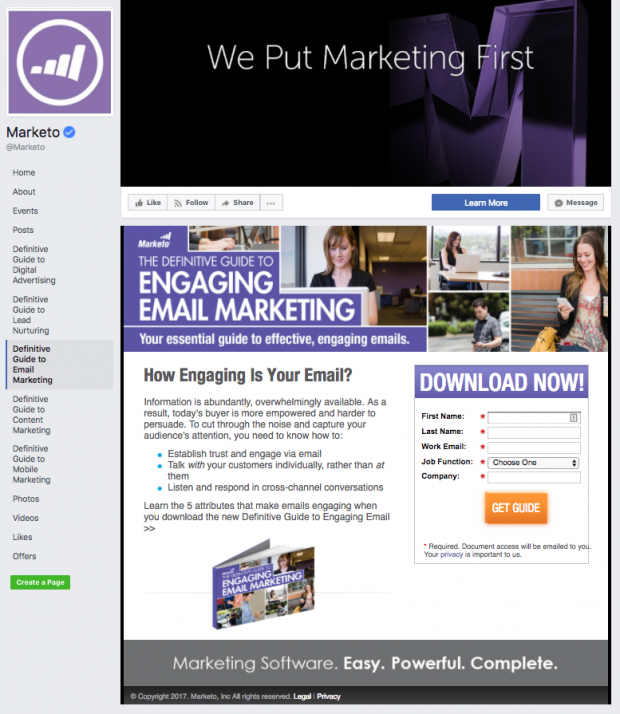 Source: Marketo Facebook
By providing your users with something bespoke, clear and interesting on your facebook business page it means you get a clear definition and authentic leads by outlining areas of your page suitable to what your customer wants and needs.
Overall, the above list is a snapshot into the importance of lead gen on social media, but, hopefully, a good indication that by adhering to one strategy for improved lead gen you're also opening up more and more opportunity to nurture and drive leads through the journey to purchase.