Google is one of today's most recognisable global brands. As such, it's almost impossible for anyone not to use it in some form in their daily business activities.
Although their search engine captures 3.5billion searches everyday, there's a lot more to Google than just search.
Every marketer will know about Google Ads and Analytics, not to mention Chrome, Maps and Google Drive. But what about the not so well known ones? Have you ever explored Google's "Even More" section? Google has several dozen free tools that can help with everyday marketing and business operations and you may be surprised with how useful they are.
Here are our top 8 free marketing tools from Google…
1. Google Trends
Google Trends is an online search tool that allows you to see how often certain keywords or subjects have been searched over a certain time period. It also highlights trending topics so you can hook people by engaging their interest.
Google Trends are particularly useful for:
Knowing the hottest trends

Finding sites for bank linking

Monitoring your brand

Monitoring competitors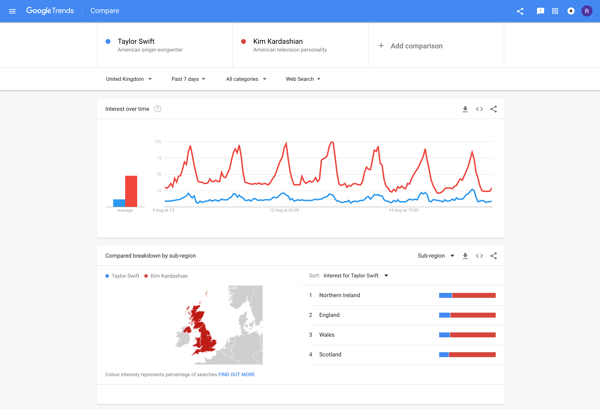 Google Trends
2. Digital Garage
Digital Garage is an online learning platform that delivers free skills training, covering all things digital, from websites and tracking to online marketing and beyond. Not your average online learning experience, it combines quizzes, graphics videos, plus more.
It could be used by freelancers and small businesses wanting to improve their digital marketing, it could be used by somebody with an interest in social media or by marketing and communications officers within larger corporations.
Regardless of your existing skills and expertise in digital marketing, you'll learn something new with Digital Garage.
---

Related Blog:
4 min read
8 Tips for the Perfect B2B Marketing Plan
---
3. Google My Business
Google My Business (GMB) is the top local business listing platform online. It's completely free and lets you manage how your business appears on Google Search and Maps.
A GMB account allows you to add crucial business information such as location, contact details, opening hours, website URL, etc. The one account means you simultaneously reach multiple Google Platforms. Google revealed that one third of Google searches has local intent.
If that doesn't have you convinced, here's more benefits of Google My Business:
It's free
It gives your business better search visibility
It helps customers find you
It includes a review section
It provides customer insights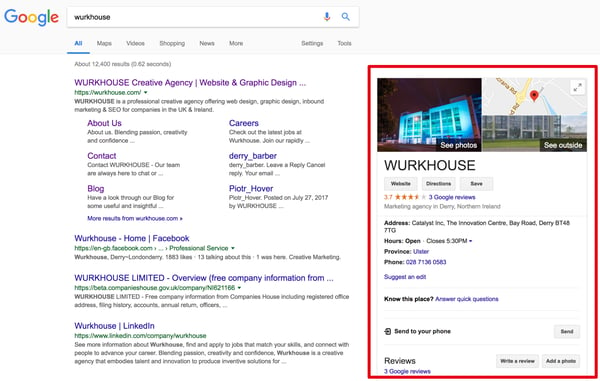 Our Google My Business listing
4. Search Console
Search Console is a conglomeration of Google SEO tools and reporting. It's free to use and it helps you monitor and maintain your site's presence in Google Search results. It gives you insight from Google as to how the search engine sees your website; you can check indexing status and optimise visibility pretty easily.
You don't have to sign up for Search Console for your site to be included in Google's search results, but doing so can help you understand how Google views your site and optimise its performance in search results.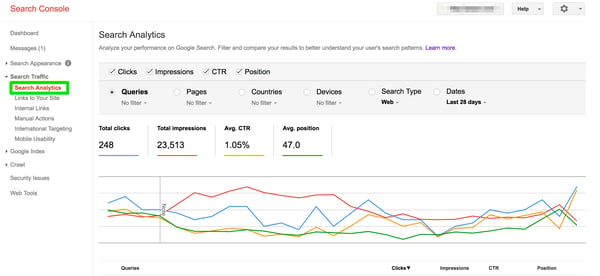 Search Analytics within Google Search Console (Source: Search Engine Journal)
5. Google Alerts
Google Alerts is a free service that automatically delivers content to your inbox as it happens.
You choose what you want to hear about then Google sends you an email when it appears in a new page on the web. This allows you to receive results weekly, daily and in real time. Alongside this you can choose whether you want to track mentions; news, blogs, books etc etc.
All you need is a Gmail account to get started

Google Alerts are especially useful for:
Monitoring mentions of your brand

Following industry trends

Keeping up-to-date on trending news stories

Sourcing articles and content to share

Keeping an eye on competitor's activity
---

Related Blog:
4 min read
7 Tips on Optimising Your Google My Business Listing
---
6. Google Forms
Google Forms is a web based survey app that builds data collection forms. It allows you to create polls, surveys, quizzes, and event registration sheets in your mobile or web browser; no need for specialist software.
You can view and analyse results as they come in. You can also easily summarise survey results with charts and graphs.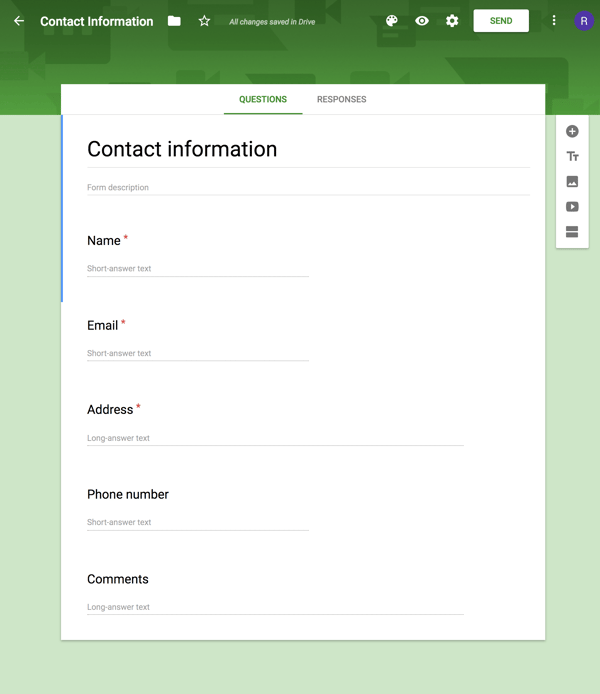 Google Forms setup
7. Keyword Planner
Google's Keyword Planner is a keyword research tool that allows you to find the right keywords to target for advertising and content.The keyword planner shows you average monthly search volume, level of competition and estimated cost-per-click for specific keywords. As well as providing metrics for keywords you have input, it also has the ability to suggest new keyword ideas.
So if you're starting from scratch and you're not sure which keywords you should be focusing on, simply input the URL of your landing page and the tool will produce a list of keyword ideas.
8. Public Data Explorer
Google's Public Data Explorer pulls public data and forecasts from a range of sources, including global organisations and academic institutions. If you're after quality secondary research, look no further.
The info can be displayed as line graphs, bar graphs, cross sectional plots or on maps.
There's 80 topics available, but here's the top 20 to wet your appetite…
1. Cost of living
2. Unemployment
3. Population
4. Sales tax
5. Salaries
6. Exchange rates
7. Crime statistics
8. Health statistics (health conditions)
9. Disaster statistics
10. Gross Domestic Product (GDP)

11. Last names
12. Poverty
13. Oil price
14. Minimum wage
15. Consumer price index, inflation
16. Mortality
17. School comparisons
18. Election results
19. First names
20. Accidents, traffic violations