How to create the perfect B2B marketing plan
The scope of marketing activities at our disposal have considerably broadened when it comes to creating a B2B marketing plan; Remaining competitive means taking full advantage of these activities available.
However, more often than not, businesses are not getting the most from their marketing activities because they don't have a well defined approach based on an integrated B2B marketing plan.
This post will cover 8 B2B marketing tips you can utilise and incorporate into your overall marketing plan.
1. know your audience
Assuming that you already know your target market, how much do you know about the people you're trying to sell to? By creating buyer personas you can make sure you tailor your marketing strategy to fit their needs and challenges.
Personas will give you something to build promotional campaigns around without losing sight of what the end goal is.
Most businesses find their audience is best represented by between 3-5 personas, which is enough to cover the majority of your customers, yet small enough to add value by being specific.
Learn why B2B companies need to create buyer personas.
2. Get personal
When researching promotional marketing campaigns, as a marketer, your goal should be to learn everything you can about your prospects. People have grown to expect personalisation in this new era of marketing and want to be spoken to directly.
A recent survey carried out by Salesforce found that 62% of respondents say they're likely to switch from a company that treats them like a number not an individual.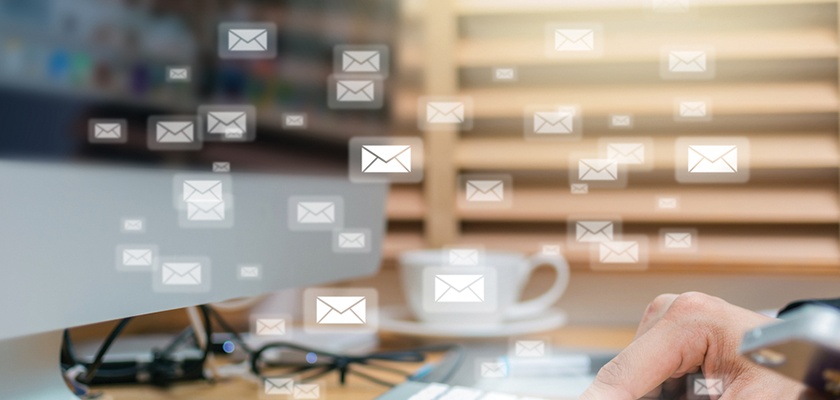 3. Set goals and milestones
Goals are important but milestones are even more important. Goals define where you're going, and milestones let you know if you're actually getting there.
Begin by evaluating your marketing goals and reverse engineering them to determine the most efficient way to reach them and break these down into simple milestones. This will make the entire marketing process easier to comprehend for your team and there will be no hesitation as to how you'll be reaching your marketing goals.
4. Impress online
Customers and potential customer expect to see you online; if you're not there you could be losing out on sales. The three areas that you should focus your online efforts on are your website, SEO and your social channels.
▹ Website
In today's professional services marketplace, a website is arguably your most crucial asset. They have become the most commonly used information source with 80% of people look at company websites when checking out service providers.
Prospects need to be able to find your firm's website in order for you to have a chance at winning their business. Plus, your website enables you to demonstrate your firm's expertise and become well-known throughout the marketplace.
If you already have a website, it may be time to consider a site redesign.
▹ SEO
Having a website is not enough on its own; Your target audience has to be able to find your site for it to be effective, and that is where SEO comes in.
Though SEO is a complex and evolving discipline, it ultimately consists of two primary components:
▪︎ On-site SEO is about using targeted keyword phrases that typically focus on your services and expertise, so when audiences search for insight on your area of specialty, they'll find you.
▪︎ Off-site SEO focuses on external links to your website. For example, through outside engagement or guest articles in other publications.
These efforts work to increase your site's authority as a widely recognized leader on your topic.
The higher your site authority and the more quality links to your website, search engines will begin to see your site as more credible, which will boost your organic ranking in search results.
Read our blog on B2B SEO for further tips.
▹ Social media
Having a social presence is a prerequisite for every business, whether your B2B or B2C. Social channels allow you to network and connect with valuable contacts and influencers, as well as monitor what people are saying about your brand.
Over 60% of buyers check out new service providers on social media, with 17% of expertise-based recommendations now being made on the basis of interactions on social media.
5. Invest in video
According to an eMarketer study, B2B buyers name video among the top 3 most useful types of content for making work purchases.
Ever heard of an explainer video? This is a good place to start if you've never used video as a marketing strategy. It's one of the most popular (and successful) ways of utilizing video for B2B marketing. Explainer videos usually incorporate a story-telling structure to inform the potential customer about your product or service, your unique value proposition, and exactly how it will benefit them.
Pinterest Explainer Video
6. Make time for industry events
Although conferences and other networking events are somewhat of a traditional B2B marketing strategy, they should still have a prime spot within your plan. Relationships are key in B2B sales, and events that bring you face-to-face with your prospective customers are essential.
Here are tips to consider if you're attending a trade show or industry event:
Do your homework prior to the event - check the RSVP list and plan conversation topics for people who you identify as relevant connections.
After the event, connect with the people you met on LinkedIn and send them a follow up email.
Check out our exhibition stand design tips before you start planning.
7. Cold outreach is dead
It's true, the "good old" method of cold calling and cold emailing with hard sales messages – is dead, and it's as good as spam this is growing more and more so the case in 2020. As a marketer centric and interruptive approach, all you'll get with cold outreach are low conversion rates and irritated prospects.
Which is hardly surprising considering that you're trying to sell to people who don't know you, don't trust you and who are more thank likely, not ready to buy. Buyers typically go through a journey before making a purchasing decision; known as the buyer's journey.
You need to focus on adding value and being there for your prospects when and where they need you. That way you'll create long term valuable relationships and turn your customers to ambassadors.
8.

Try inbound marketing

If you're not too familiar with inbound marketing, in a nut shell:

Inbound marketing is a holistic technique for attracting customers to your products and services via content marketing, social media marketing and SEO.

It takes into account the fact that buying habits have dramatically changed, as people will no longer tolerate being bothered or interrupted. Inbound focuses on making your company easily locatable when people come looking for you or a product or service you offer, as opposed to attempting to interrupt people who are not looking for something you offer; It's about capturing a prospect's attention as opposed to forcing it upon them.

Inbound is a holistic approach that includes the following:
Contact capture via forms
Downloadable content offers
Call-to-actions
Landing pages
CRM integration
Email marketing integration
Marketing automation
Social media marketing
Blogging
PPC advertising
SEO
The main benefits of inbound for a B2B company are:
Increased visibility and brand awareness
Increased trust and credibility
Generation of quality traffic and leads
Simplifies the jobs of sales and marketing, also helping align the two departments
Educates prospects
B2B is about creating long lasting relationships with both prospective and current clients. With the world of marketing constantly evolving, in order to remain competitive, you must constantly assess your B2B marketing tips and find ways to improve.
Firms that successfully gather and utilise data on their performance across a wide range of marketing activities will continue to come out on top.
Sources:
1 & 2 Hinge Marketing