In a market that is more saturated than ever, it's becoming increasing challenging for brands to stand out amongst the competition. 2021 was a difficult year for many, the effects of COVID-19 were felt globally, it's reported that nearly 400 marketing leaders saw their budgets cut as a direct result of the pandemic. This meant, for marketers, it was vital to get creative.
Here's our 5 top marketing campaigns of 2021
Cuthbert the Caterpillar
Whether you were #TeamColin or not there was no ignoring the viral campaign by Aldi UK as they promoted their Cuthbert the Caterpillar range. This campaign is the perfect example of humour in marketing and reactive marketing. Aldi's quick reactions, audience engagement and creative copy, got #FreeCuthbert trending across social media, and turned a court case into a viral social media moment.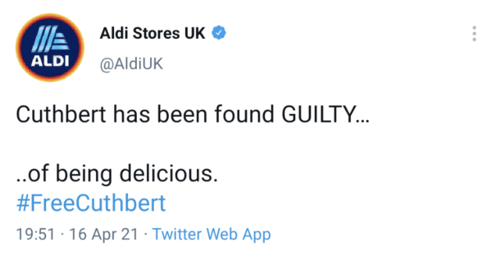 Aldi's tongue in cheek tweets poke fun and bring some humour to the situation
What Wurkhouse love about this campaign:
Aldi quickly took control of the narrative, what was originally a court case and had potential to bring negative PR for Aldi, was turned into a viral social media campaign due to its clever copy and sense of humour.

Aldi took a viral tweet and pushed it further to create graphics, video and continued to engage with the target audience throughout the campaign.
Adele 30
While Adele's projection of the word 30, her new album title, where projected across famous landmarks including the Eiffel Tower, is maybe not exactly traditional outdoor advertising it caught attention across the world.
Fans took to social media and #30 began trending. This technique was perfect for gaining interest before the perfect reactive social media moment when Adele replied to Twitter during the social media down disaster which continued to pick up attention from her fans and build anticipation that an album drop would be coming soon.

What Wurkhouse love about this campaign:

We love the spin on traditional outdoor advertising, and instead of advertising on Billboards, Adele's marketing team took to some of the most famous landmarks across the world instead, making it impossible to miss the marketing message.

The title 30 stays on brand with Adele's album themes (past albums have been named after the year she wrote them i.e. 21 and 25) so the 30 projection acted as an immediate associate with Adele from her fans and supporters.

Sometimes less is more! Giving the audience just enough to create interest and get them thinking was what got #30 trending.
#LooksLikeGuinness Campaign
Guinness are well known for their creative reactive marketing campaigns and this campaign was no different. Celebrating the reopening of pubs and bars in Ireland after a mandatory closure to help limit the spread of COVID-19, Guiness perfectly captured the desire for a pint of Guinness and finished with the feel-good factor of seeing friends reunited in the local pub.
The company's slogan, good things come to those who wait has never been more relevant and the pledge from Guinness at the end demonstrates their commitment to the industry without it overpowering the campaign.
What Wurkhouse love about this campaign:
The importance of brand awareness and consistency speaks for itself in this advert! By cleverly implying that everything black and white looks like a Guinness, the audience believe it also.

The advert is simple with a powerful soundtrack 'Always on my mind' which echoes the visuals in the advert that the audience has been thinking about spending time with loved one's and socialising.

The scene at the end with the friends around the table, perfectly captures the emotion of getting to see friends once again and associates Guinness with those positive emotive feelings.



Aldi: A Christmas Carol
John Lewis is look's like Aidi is coming for your spot!
Aldi's Christmas Carol Advert was the perfect blend of combining humour with a deeper message to create an advert that has the 'feel-good factor' and encourages the audience to shop with Aldi. The new twist on a classic with the clever inclusion of Marcus Rashford, which would reason with all audiences, resulted in an advert that had someone to delight all ages.
Aldi's 2021 Christmas Advert
What Wurkhouse love about this campaign:
Aldi's clever play on words with 'Ebanna Scouge', 'Mark Raddish' takes an old classic and makes it relevant to Aldi and their target audience. Using a voice-over and creating a character for Marcus Rashford, a popular footballer for England who is known for his charity work, keeps the ad current and reminds the audience of the good that is being done in the world, adding that feel good factor in a subtle way.

Christmas Adverts are a perfect opportunity for story telling and by including Kevin the Carrot (This character has featured in several of Alid's adverts) the audience are able to instantly connect AIdi to the ad and have developed fondness to the characters and their storyline, perfect for keeping the audience interested in what comes next.
There you go, that's our top marketing campaigns of 2021 wrapped up, we hope this gives you some creative inspiration as we move into 2022!