Meet Jason. Our web development intern.
For the past 12 months, Jason has been plonked, right smack in the middle of our development team here at Wurkhouse. He's proven to be a tremendous addition, not only with his fellow developers, but the entire team. His love of pool and beef stroganoff with noodles (yes, noodles) has only added to his charm.
We'd like to think that his integration into the Wurkhouse team made for an immersive, educational experience. One that's helped set him up on his journey to post-graduate employment, but let's here it from the horse's mouth...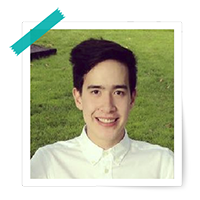 Name: Jason Sweeney

University: University of Ulster, Magee

Course: IT

#1 First of all Jason, why web development?
I chose web development because there will always be new challenges that comes along with every project. Every client has a distinct set of requirements that varies from the last one. This means that building a web application is never routine, it requires planning, thought, and effort to deliver a quality web application. The sector is evolving so rapidly that quite often I must learn how to use new software or technology quite often which means my work will never be uninteresting or mundane.
#2 What made you want to work with us?
I wanted to work with Wurkhouse because of the diverse nature of a digital creative agency. All kinds of people come to us looking for branding, marketing and web applications which means that the work we do for a client is usually very intriguing, whilst also getting to get an insight into the sector the client comes from. It's also fascinating getting to see how a business can come to us without branding or a web presence, and leave us with the creative tools that they need for them to be a successful business.
#3 What has been your best experience?
The best experience I've had was seeing my first website go live, and for any web development intern, this is a big milestone. It's a site which is used internally for tracking an in-house competition where users could record and track their progress against other employees here in Wurkhouse. What made the experience great was not just seeing the site online, but seeing my colleagues using it and getting genuinely positive feedback from it.
#4 Have you worked on any unique projects?
As I've already mentioned, every project I work on is different, but a project I've worked on which has truly been unique was the build of our own custom WurkCMS and WurkCommerce platform. What makes it unique is the fact that I worked on it from start to finish and will not only be used by one client, on one website; it's the fact that it will be used by many clients as the back-end for their websites. It has been a chance to work on the system architecture of a CMS and an ecommerce system, which allowed me to learn more about inner workings of a system.
#5 What's the one thing you've learnt from working with our development team this year?
Working with the dev team here has been great, they're a remarkable bunch of people who was always helping and pushing me to be the best developer I could be. One particular thing that I've learned from working with the dev team is that working within a team is much better than working alone. What I mean by this is that, working as a team, we can pool ideas and choose the most reasonable approach to a problem, which makes work that bit easier, whilst working more efficiently.
#6 After a year spent at Wurkhouse, do you think it's benefitted you for your final year at university?
I can go into final year at the end of September with a stack of transferrable skills which I've gained over the past year, from the technical programming skills to the interpersonal communication skills. All of these skills that I've learned has given me the knowledge and know-how I need to submit an incredible final year project whilst also giving me the drive and ambition to perform well in my exams, hopefully earning a first-class honour in my degree and making it easier to get an excellent graduates job.