Seeing your brand name in print is certainly satisfying, but can you measure it? When it comes to digital marketing there are specific metrics you should be monitoring, allowing you to optimise and make improvements over time.
Despite the importance of analytics and data in marketing success and proving ROI, a startling number of companies can't track or attribute the impact marketing has on their overall profitability. The ability to collect, combine and calculate data provides marketers and management with a clear picture of how resources have been spent and the return on investment gained.
When finely crafting your marketing campaign, ask yourself– can each activity be measured? The metrics you want to track will depend on the goals you've set and what you want to achieve. While there's numerous metrics you can measure, we've covered some of the most important to kickstart your reporting.
Watch the video and scroll below to read more in depth about the key metrics you need to measure.
1. Overall website traffic
The 'All Traffic' section within Google Analytics shows you the total number of website visitors. Traffic can be segmented into source and medium to identify exactly where your traffic derives. All traffic provides you with a complete overview of how your site traffic is performing. Monitoring overall traffic enables marketers to gain an insight into patterns; peak months, times and popular devices for example.
How to find 'All Traffic':
Open your Google Analytics dashboard.
Navigate to the 'audience'
Click 'overview'
Find the sessions column within the table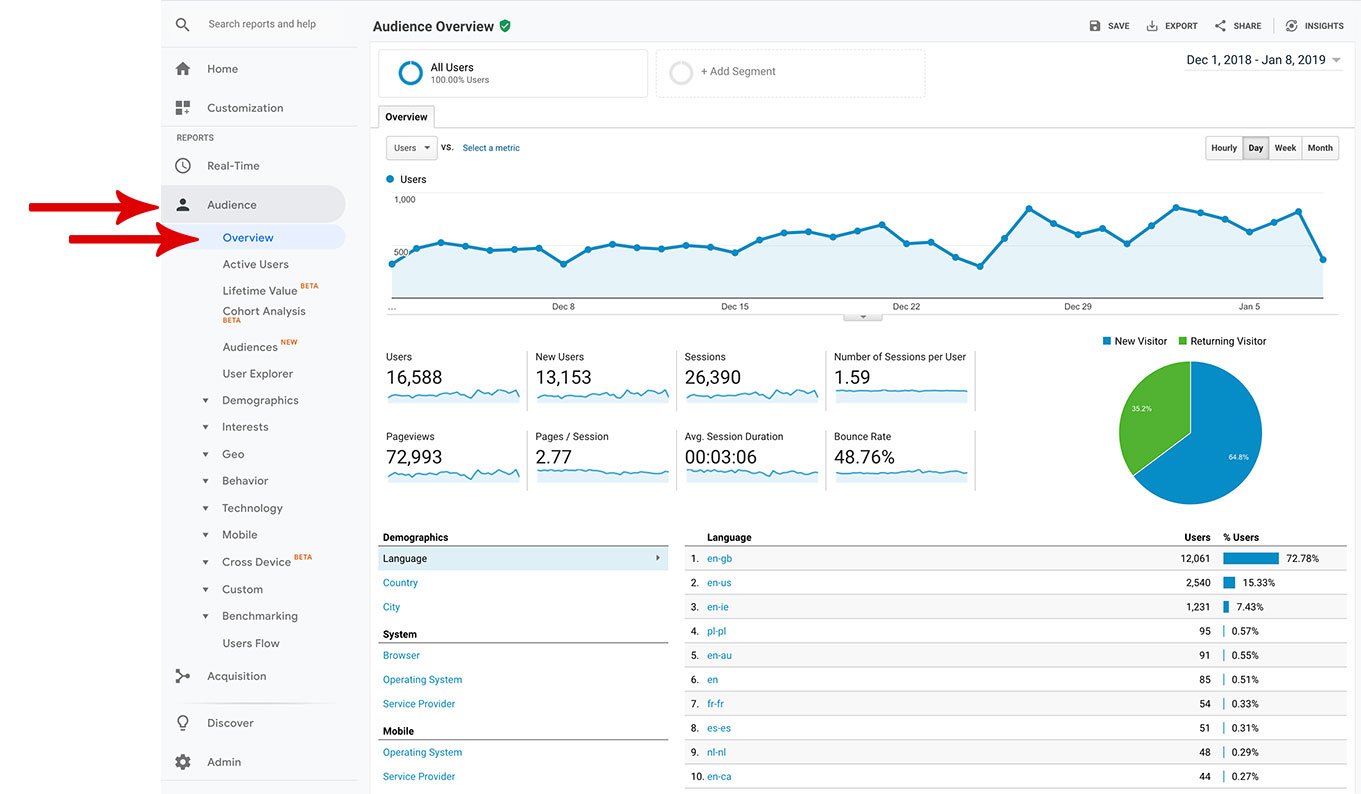 2. Top channel traffic
Identify how people arrived at your site; where they were prior to entering your website. It's important to understand the channel your visitors use when analysing the performance of your overall digital marketing campaign; what channel is providing the greatest results and where visits are dropping off. The main channels to look out for are direct, organic, referral, social, email and paid.
How to find 'Top Channels':
See above (All Traffic)
Select 'Channels'
Find channel breakdown under 'users'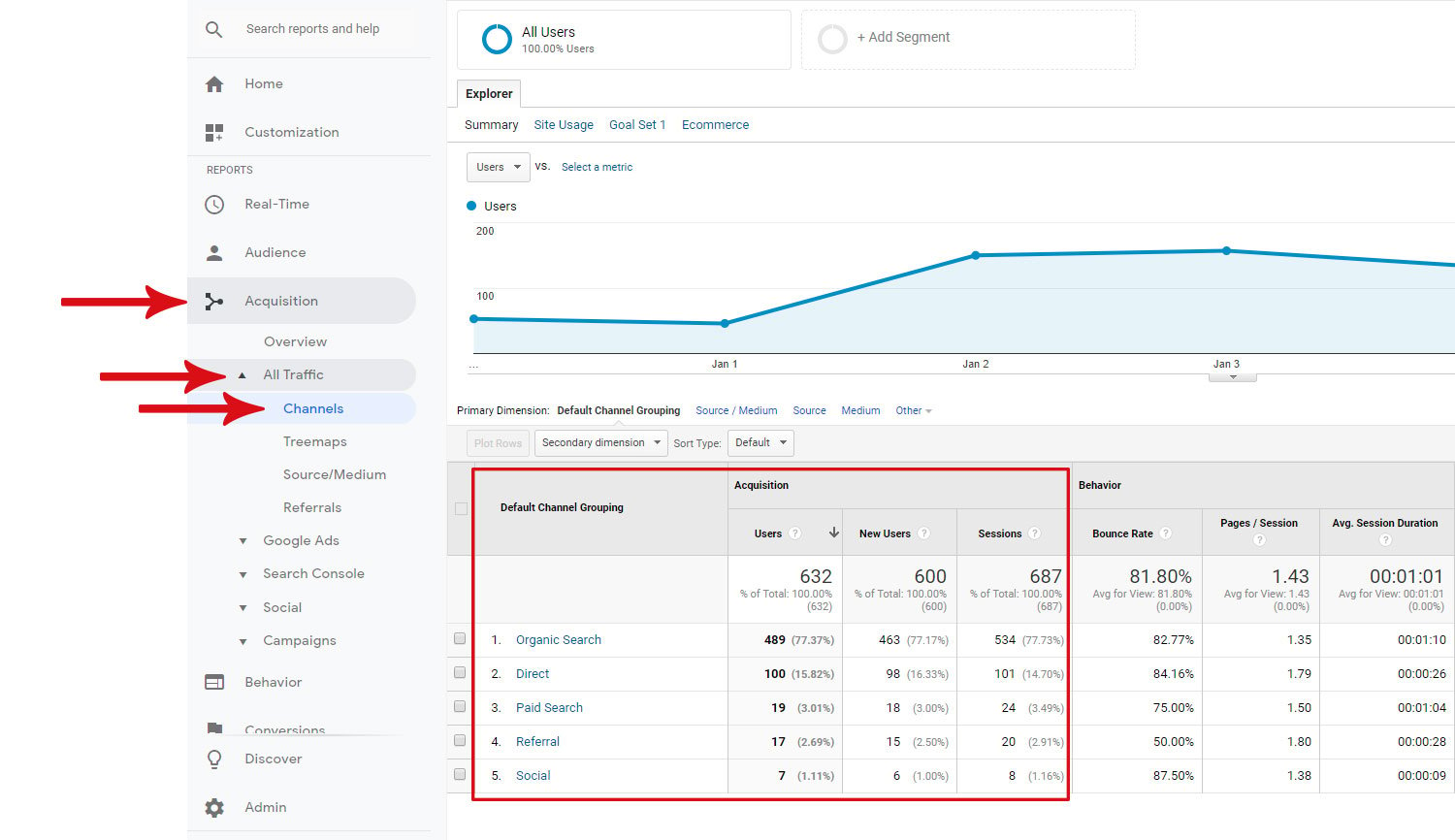 3. Bounce Rate
Bounce rate is the average number of visitors who exit your website after visiting one page only. A high bounce rate on a specific page could be down to one of two things; 1. Visitors are finding the exact information they need and therefore don't need to click through to another page or 2. Poor website usability is frustrating, and content is irrelevant or not what your visitor expected to see.
How to find bounce rate of…
Website as a whole:
Go to Acquisition > All Traffic > Channels
Choose a channel
Go to the bounce rate column
Specific page:
Go to Behaviour > Site Content
Click either All Pages or Landing Pages
Go to the Bounce Rate column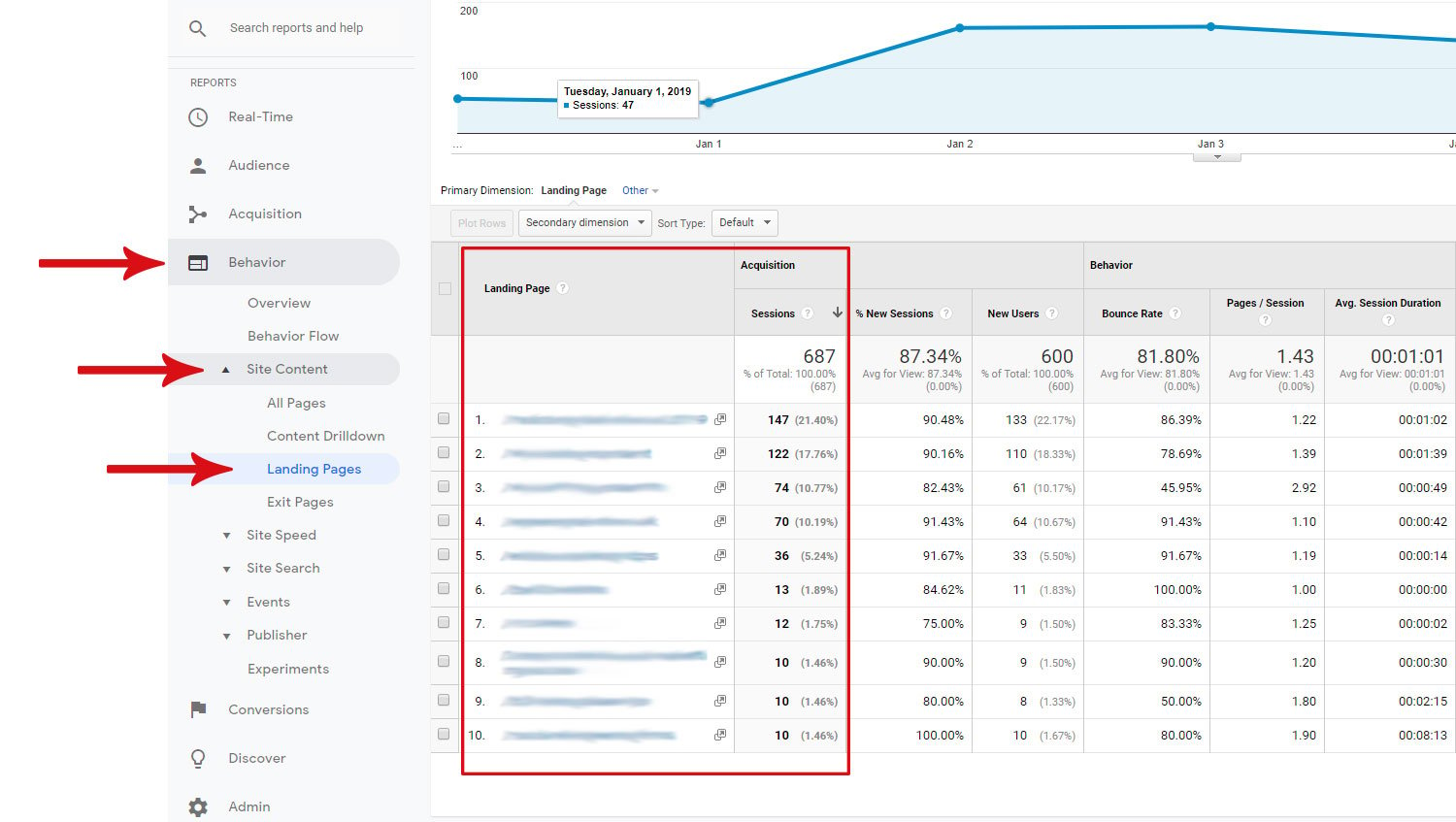 4.Goal Conversions
A conversion occurs when someone takes the desired action on your website; whether that's making a purchase, downloading content, filling out a form or signing up for a trial. To put it simply, a conversion is when an anonymous website visitor becomes a known contact on your marketing database. A poor conversion rate is often linked to inadequate design, bad user experience, irrelevant content, unappealing offers or off-putting forms.
Tracking conversions can alert you to issues that may otherwise go unnoticed; maybe it's time for a website refresh with improved UX or a content overhaul.
How to calculate website conversions:
Go to Conversions > Goals > Overview
Choose source or medium
Click 'view full report'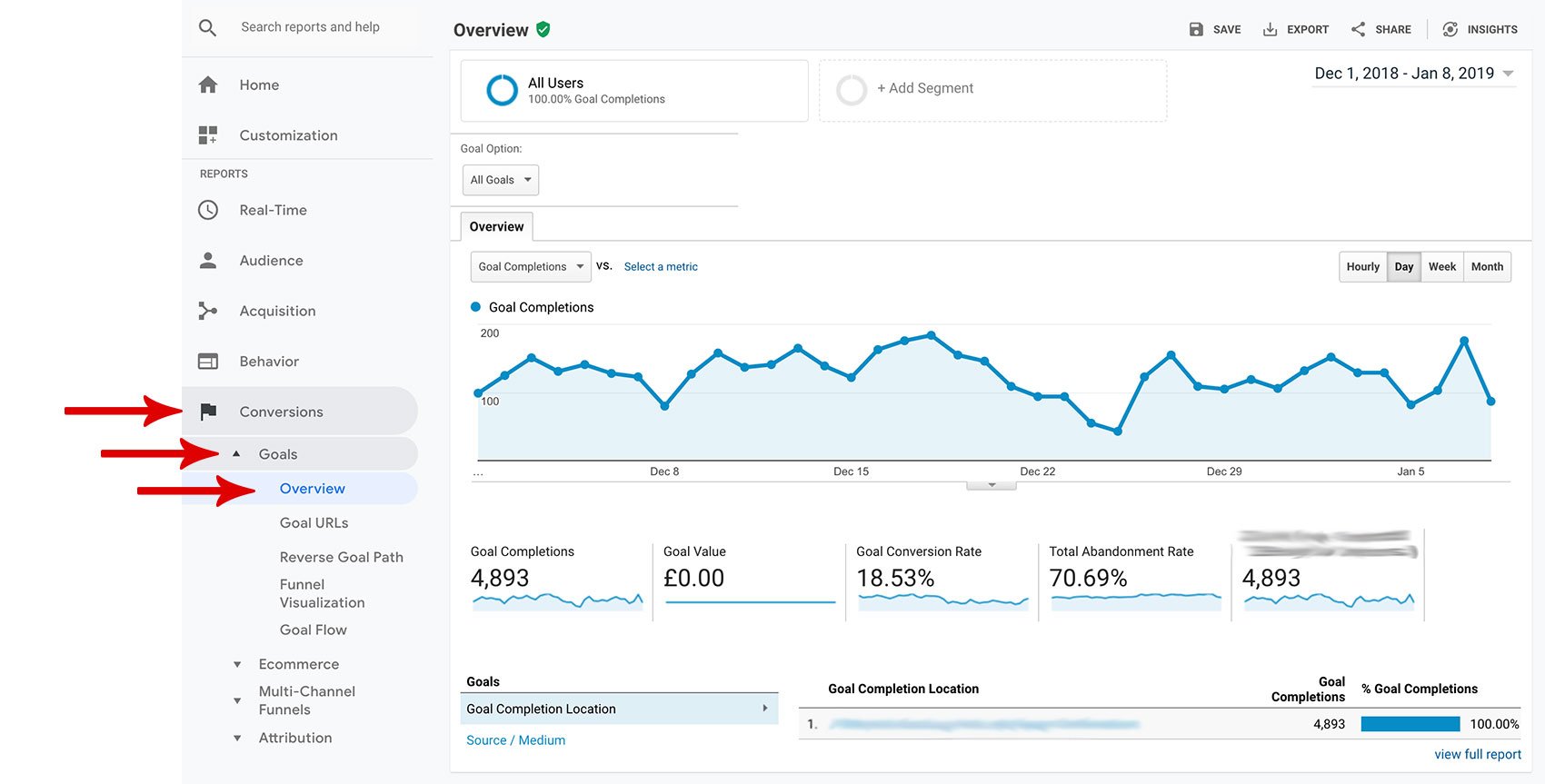 5. Queries
See which queries bring users to your website with Google's Search Console. Analyse the keywords data, organic impressions and clicks to improve your website content and ensure you're found on search pages for the relevant terms your audience are looking for online.
Learn how to add a website to your Google Search Console account -> Search Console Help
6. Top Landing pages
'Entrance Pages'; the individual pages where visitors first enter your site. The top landing pages metric gives marketers an insight into those pages most visible on search engines such as Google. The high performing organic landing pages indicate that they are SEO optimised and specific to the interests of searchers.
How to find top landing pages:
Go to Behaviour > Site Content > Landing Pages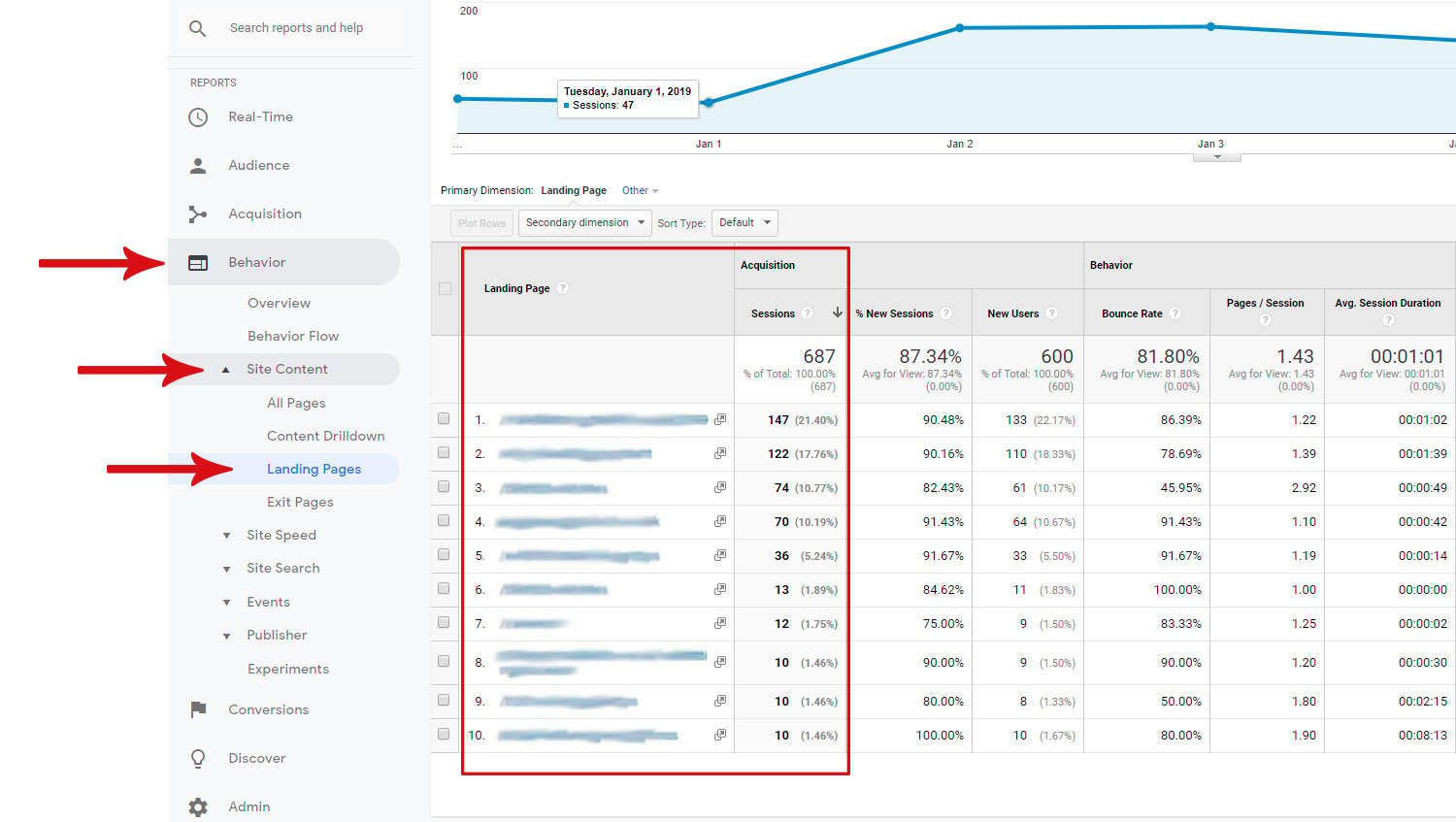 7. Time Spent on Site
While it's great to see a high volume of traffic to your website, it's also important that people are spending time when they arrive. It's positive to see visitors looking at a variety of pages, reading your content and clicking through to view downloadable content for e.g. Time spent on site often correlates that users are finding value in what you have to offer.
How to find time spent on site:
Go to Behaviour > Site Content > All Pages
Find 'Avg Time on Page' column within the table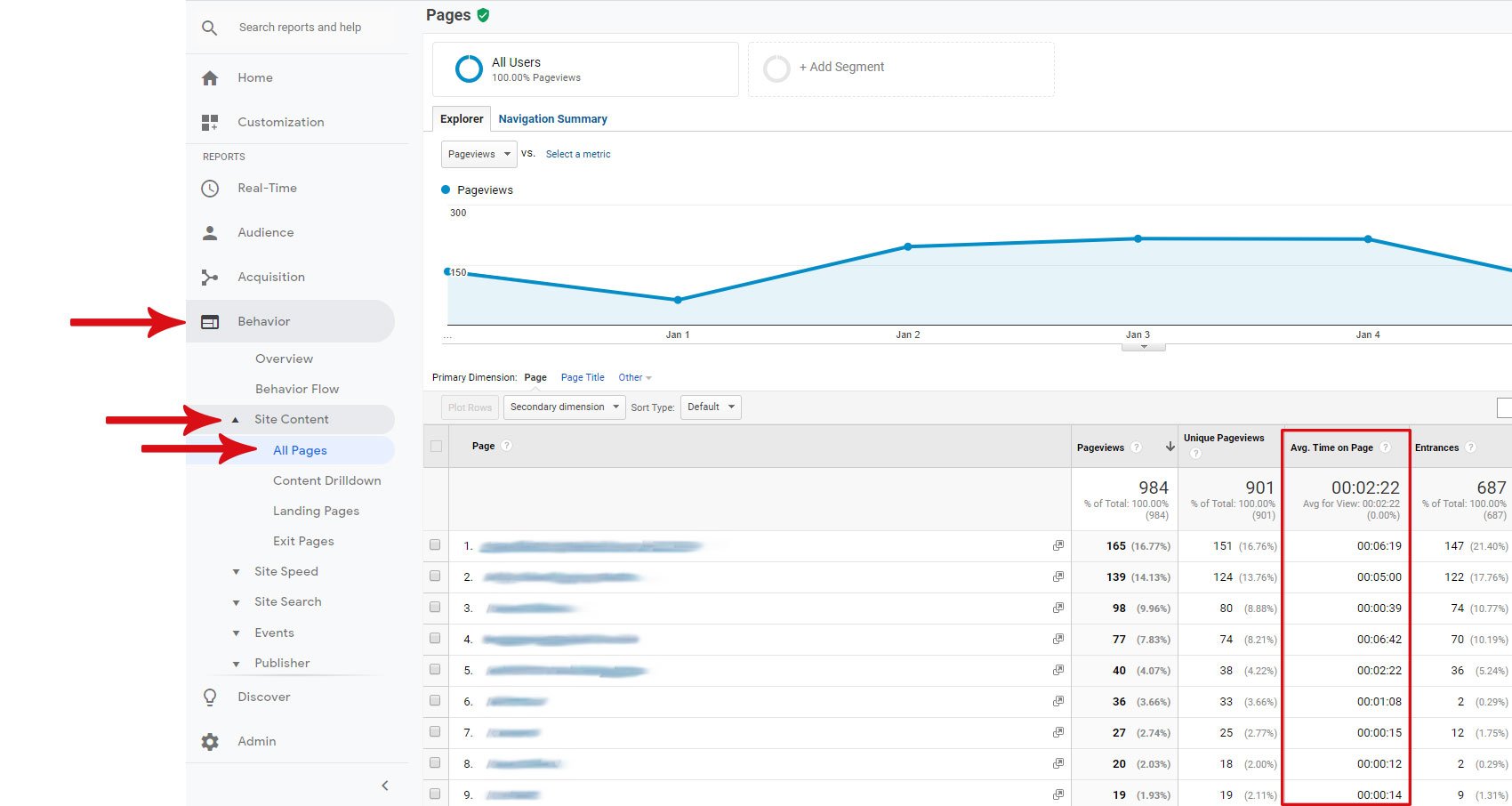 8. Mobile Performance
With so many searches carried out on smartphones and tablets, is your website optimised for mobile devices? It's known that Google prioritises those sites optimised for mobile within their algorithm, which makes it crucial to understand how users are interacting with your site on their devices. Pay particular attention to traffic, conversions and bounce rate on mobile. It's also worth looking into individual device type (e.g. Apple, Samsung) to identify any patterns in visitor flow on different screens.
How to find mobile performance:
Go to Audience > Mobile > Overview
To view device breakdown: Audience > Mobile > Devices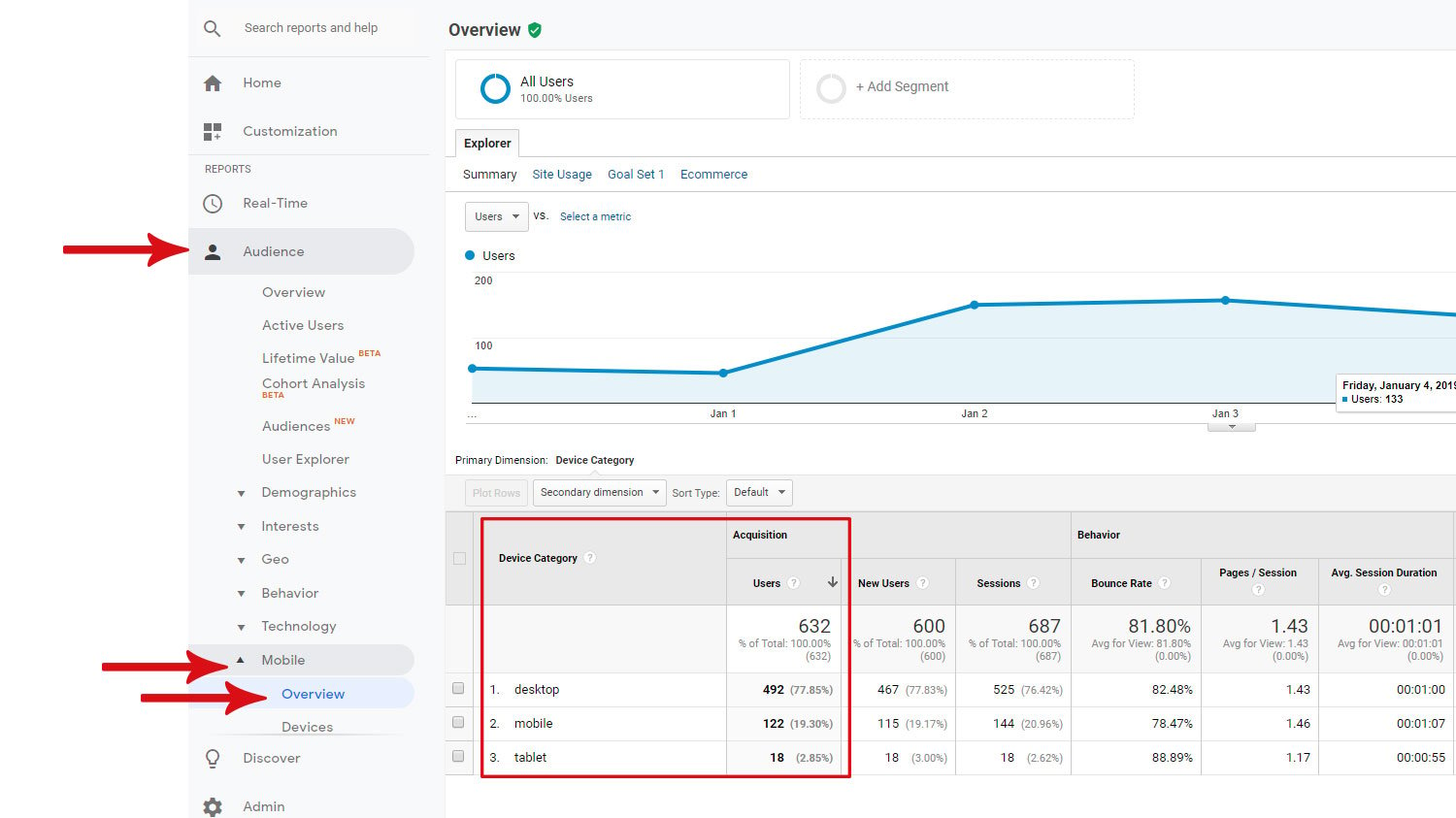 9. Cost Per Acquisition
Understanding what you're willing to spend to acquire a new customer should be decided from the outset. Many businesses fail to properly assess how their marketing spend will be spread across various channels and campaigns.
Cost per acquisition is an important marketing metric for measuring the total cost of acquiring one customer. CPA is a financial metric used to directly measure the impact your marketing campaigns have on revenue. Measuring this, enables marketers to understand which activities provide the greatest return on investment in relation to acquiring new business.
How to measure Cost Per Acquisition (CPA):
Total Campaign Cost
_________________ = CPA

Conversions
It's important to select the metrics that matter to you, depending on the goals you've set and what you want to achieve. Tracking performance enables marketers to understand the most effective activities and tactics in order to prove ROI and secure further budget from management.