Ecommerce personalisation strategies
Attracting and maintaining a loyal customer base is the key to ecommerce success. But creating a positive customer experience to ensure shoppers want to return requires a finely crafted personalisation strategy that makes your brand stand out above the rest.
To build out a personalised strategy, first you've got to nail data collection. In Ecommerce, there's some key data collection points to gather critical information on your customers, these include website traffic, onsite interactions, emails, advertising pixels (social media & search), personal data and purchasing behaviour. Once you've covered the basis for data collection, it's time to plan a clever personalisation strategy that keeps your customers coming back for more.
Now then, let's look at the secrets to ecommerce personalisation success.
Product Recommendations
Product recommendations offer browsers a similar experience to what they would experience if they were walking around a physical store, except with an extra splash of personalisation. There are countless ways to segment products and showcase the perfect mix of recommendations to shoppers. Two of the most popular are 'similar items' and 'complimentary' products.
Similar items: A great option when a product is out of stock or to highlight other options customers may like. When product is out of stock, don't risk losing customers to elsewhere, instead, promote a similar item that they may be interested in to keep their attention.
Complimentary products: Upsell products that complement the item a shopper is currently viewing. For example, clothing stores can enable customers to shop an entire outfit/look at once while beauty brands can encourage visitors to buy makeup or skincare products that work best together.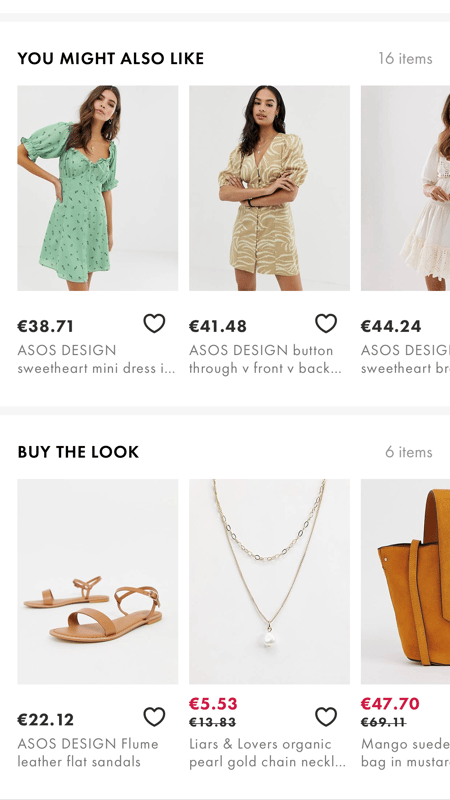 Fashion brand ASOS, use similar products and 'buy the look' to personalise their shopping experience.
Show personalised offers to returning visitors
Target users who visit specific product pages or abandon their shopping cart. Use an enticing offer or discount code that brings them back to your website, encouraging them to complete the purchase. Facebook & Instagram's advertising platform is a great way to get in front of those users who have already interacted with your brand and shown intent to purchase. Test various copy, images, GIFs and videos to identify what resonates best with your target audience.
Best Sellers
One of the original product recommendations strategies remains effective today. Shoppers tend to trust other shoppers' opinions more than anything else, so what better way to entice purchases than promote best selling products? Best sellers are a great recommendation mechanism, especially when you don't have sufficient data on website visitors to offer personalised suggestions.
Send personalised emails
A great way to boost ecommerce sales is to create multiple touchpoints with customers after they've left your site. When a shopper purchases on your ecommerce site, you can collect a string of valuable information, including email address, birthday and contact number as well monitor their purchasing behaviour. Email remarketing remains one of the best ways to engage and promote customer retention.
There's a number of ways to use personalised email remarketing to boost ecommerce sales. Know your customers birthday? Send them a birthday discount code to be used within a specific timeframe. Not only will your customer feel appreciated, they'll love the birthday treat, who doesn't? Sell a product that you can gauge when the user will run out (for example tan, skincare or beauty products)? Send a reminder email to order their new supply.
TIP: Personalised emails don't always have to be sales focused. Be helpful and offer useful tips and advice about your products to let your customers know you care. It may not create a quick sale, but it will generate trust and build relationships that generates revenue in the long run. (See below example from Charlotte Tilbury)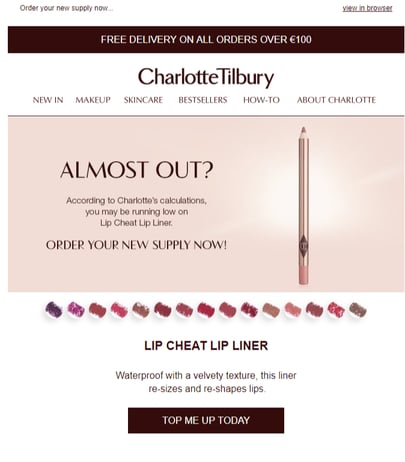 Make Up, Skincare & Beauty brand, Charlotte Tilbury, use personalised emails to prompt customers to re-purchase.
In today's competitive ecommerce environment, creating a positive customer experience has never been so important. Impress your customers with a tailored shopping experience that establishes trust, builds relationships and makes you the go - to brand for all their consumer desires.
Have you tried and tested personalisation strategies for your ecommerce brand? What provided the best results? Drop us a comment below.