Smarketing: 5 tips for marketing and sales alignment
When manufacturing sales and marketing teams unite with the same goals, they will successfully boost marketing ROI, sales productivity and most importantly, revenue. While marketing and sales alignment is a top priority for most businesses, different goals and miscommunication often leads to tension and strained relationships.
Alignment between sales and marketing is a top priority for most Manufacturing businesses, yet so many struggle to mend the tension and create a collaborative working environment. With different goals and disunity, the overall business performance can suffer.
Where does it all go wrong?
Common marketing goals include boosting brand awareness, improving online presence and generating qualified leads. Marketers tend to look at the metrics to identify how their campaigns are performing to meet their long-term objectives. Sales, on the other hand, are often under pressure to meet monthly or quarterly quotas. Sales representatives are always looking out for prospects they can help, nurture and convert and want to know how marketing can help meet their sales targets now.
Read now: How to improve profit margins in Manufacturing
How to align your manufacturing marketing and sales teams
1. Spend time together
For marketing and sales to succeed, it's important to share processes, challenges and resources to gain a perspective into each other's worlds. Both teams might communicate on a daily basis via team software and while this is great for facilitating teamwork, it doesn't create alignment. Encourage employees to step away from the computer screen and build a face-to-face relationship.
Marketing should attend weekly sales meetings to learn how sales are progressing with their targets and how they can support their efforts. By understanding the sales process, marketers can identify which content is contributing to sales success.
There's often disconnect between sales and marketing when it comes to content. By involving sales in the content creation process, you can ensure both departments are comfortable with the topic, messaging and tone of voice. This collaboration will not only boost relationships but also produce content that fuels business growth.
2. Make it easy to collaborate
Unless collaboration is made easy, it won't happen. With marketing working off feedback from sales to generate relevant content and sales relying on the info marketing provide to customers, efficient communication must be prioritised.
Facilitate smooth communication by sharing files in an accessible system like Google Drive or Dropbox. A collaboration tool like Slack is a great way to encourage each teams to discuss projects, organise information and set deadlines.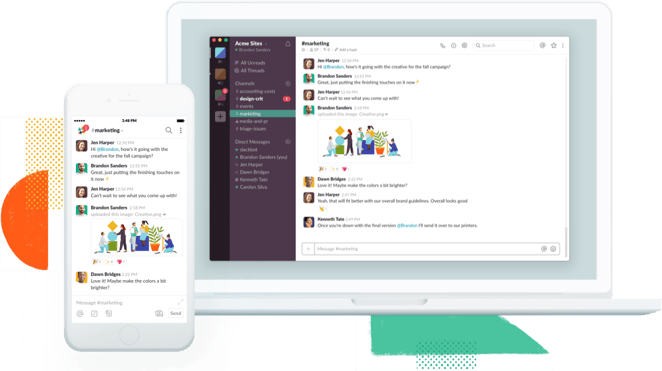 Slack: 'A place where your team comes together to collaborate, important information can be found by the right people, and your tools pipe in information when and where you need it.'
3. Align Smarketing terminology and processes
You've set up a collaborative file sharing system but do both teams understand the terminology and language used by the other? Implement a list of definitions from the outset to improve communication and eliminate misunderstandings.
It's important for both teams to collectively identify their ideal customer. Doing so, ensures both teams agree on who they should be targeting and how best to win new clients. By agreeing on an ideal customer, marketing and sales can work in sync and align their strategies with their target customers.
4. Service – level agreements (SLAs)
A critical step in alignment is creating a sales and marketing service level agreement (SLA). Many smart organisations set up the agreement to outline both the marketing goals (e.g. website visits, leads.) and the sales activities needed to support them. An SLA sets clear expectations and assigns responsibility to each team as to who does what and when.
A typical sales and marketing SLA will include definitions of a marketing qualified lead and sales qualified lead and outline follow up processes, time frames, alerts and prospect communication processes.
5. Share a customer centric approach
The common goal shared by both marketing and sales is to secure new customers and retain existing ones. It's important to prioritise customers at every stage of the buyer's journey to better understand their desires and help them achieve their goals. Help them identify their pain points and realise how your product or service can help overcome their challenges.
Going back to our first point, it's crucial for marketing to spend time with sales to grasp a clear understanding of this final stage of the buying journey and what prospects want to see. Content and resources at this stage should enable sales to bring prospects over the line to make a purchase.
Encourage sales to understand that each buyer's needs are different and that it's impossible for marketing to create content tailored for each individual prospect. When sales are liaising and presenting content to prospects, personalise the conversation to their situation to build trust and show understanding of their circumstances.
Have you mastered the art of alignment between your Manufacturing sales and marketing team? Drop us a comment and share how you've achieved Smarketing alignment.