Understanding Facebook Chatbots
We're sure you've heard about Facebooks latest innovation; chatbots. The announcement by Zuckerberg in April of this year rocked the tech and marketing world, with thousands of theories emerging on how the platform would work and benefit businesses. Deemed the future of marketing, everyone is talking about bots and the possibility of human marketing interactions becoming extinct.
By now we're guessing you're wondering, "How do messenger bots work and should I use them?" So, let's get started…
► What is a Bot?
In simple terms, a bot is a piece of software used to automate repetitive tasks. Available for anyone to build into Facebook messenger, are a great way to attract new prospects, build existing relationships and reduce the time spent answering repetitive questions from users.
They can be set up to identify specific keywords or actions and respond according to your pre-set conditions. More sophisticated bots can not only comprehend and analyse conversations, they can also learn from it to improve future communication.
► How do Facebook Messenger Bots work?
This part is best explained through an example.
If you message our page, you'll immediately be met with a greeting from our Wurk Bot: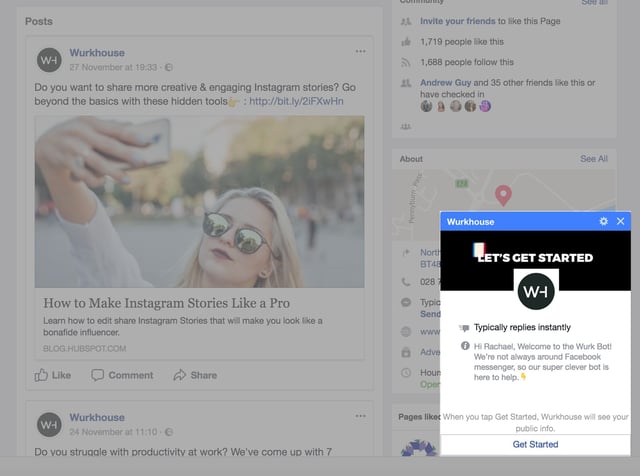 Wurkhouse BOT

From this you can click "get started", which will automatically subscribe you to our bot, providing various options to learn more about Wurkhouse services and speak with our team. Depending on the button clicked, you will be pushed to the most relevant answer that addresses your query, e.g. Marketing, Web, Design.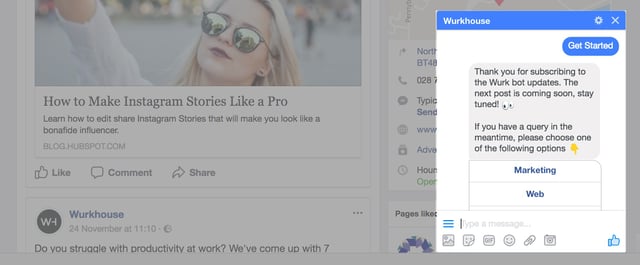 Wurkhouse BOT
Those who remain subscribed will continue to be notified about new content as it's published, all the time leading back to our website where our online connection continues to grow.
► Are bots easy to setup?
While you can build your own bot, it's not necessary. There are many bot building platforms out there, and these are much easier than trying to code your own.
► Are there any drawbacks to using bots?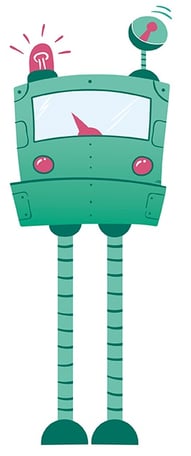 Depending on your business type, you might be reluctant to lose the human element. Bots are only programmed to answer the questions you set, so if a user asks an unsuspecting question, the bot can come across as "robot" like.
Also, if they are overused, or used unnecessarily chatbots can frustrate users and can appear spammy. They shouldn't be implemented to completely replace other marketing channels.
► How will your audience find your bot?
This is the main concern for marketers. "If I invest time and resources into creating bots, will my target audience find them?"
While Facebook users can search for companies and bots by name within the messenger platform, like every new method of marketing you adopt, promotion will be key.
Here are 3 methods ways you can build your bot connections:
▫︎ Messenger Link
When you create a Facebook business page, messenger links use your username to generate a short link. When users click this link anywhere within Facebook, a messenger window is automatically opened.
▫︎ Messenger Code
Your company's visual thumbprint, these personalised images can redirect users who scan them using messenger to your company profile or bot.
Example: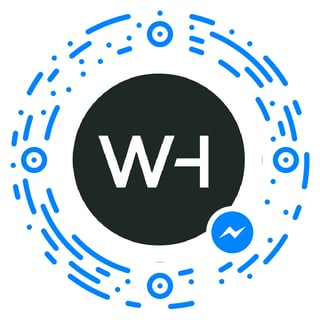 Wurkhouse Messenger Code
▫︎ Messenger Button
Messenger buttons can be inserted into your website so that visitors can click them to begin a Facebook Messenger conversation.

Image credit: Facebook
► Should you build a Messenger Bot?
Creating a Facebook chatbot is just like any other marketing activity, it will require implementation time, sufficient skills and it may not provide the return on investment you expect.
Bearing that in mind, answering these questions will give you a gauge of chatbot suitability for your company.
▫︎ Are you actively using Facebook?
Chatbots are linked to your Facebook page, so it's important that you're consistently posting to that page and interacting with users.
▫︎ Is your audience on Facebook?
Bots won't perform unless your audience is there to interact with them. Maybe your target market doesn't currently use Facebook for business research, but is the potential there to market towards them and change that?
▫︎ Do you have sufficient support for chatbot management?
Whatever you do, don't delve into chatbot creation if you don't have the time and resources to support it. Yes, the bot will be automated, but you'll still need to manually promote it, answer any questions the bot can't respond to and observe how users are reacting to it.
▫︎ Do you really need a bot right now?
You might love the idea of automation, but do you need to create a bot when automated social posts would suffice to free up your time? If you're not already interacting with your fans, chatbots could be a premature choice. Instead, focus on engaging more with your audience to build your connections and establish trust before taking the step to implement chatbots.
Final thoughts
When your business is ready, chatbots can be a valuable addition to your Facebook marketing strategy. Using artificial intelligence to mimic your daily conversations will transform the way you interact with users, having a positive impact on customer service, advertising efforts and lead nurturing.
We'd like to know your thoughts on this latest social marketing trend. Do you think it's a life-saver for time management? Or a dangerous step further away from human interaction? Drop us a comment below.