Unlock The Secret To B2B Lead Generation
Your company website will unavoidably take up a large portion of your marketing budget. Every business depends on generating sales, so it's vital to invest sufficient resources into a website that maximises B2B lead generation. The first impression prospects will have of your company will be your website and you have a narrow opportunity to win their attention before they venture to a competitor's site. Each page of your website should be consistently built and designed to provide visitors with the optimum experience, all the while focusing on generating B2B leads to maximise your website ROI.
Watch the video below or scroll below to find our more about the Essential B2B Lead Generation Tips;
Here are 4 tips to boost your B2B lead generation:
1. Have a customer focused website design
Examine your entire website, its content and its usability. Does it offer a positive customer experience? Your website navigation should smoothly guide users throughout your site, prioritising your visitors needs and making the most valuable information easily attainable. Another important element of a customer centric website is how responsive it is. A responsive website ensures you are easily discovered on search engines and guarantees consistency for visitors regardless of the device size they use to view your site.
Here are two things to always remember when designing your website for B2B lead generation:
Don't write like a robot. Remember to write for humans! Unimaginative, corporate language is a thing of the past.
Steer clear of common stock images. It's a good idea to get some professional photos taken that can be used on your product/service pages as well as blogs and other resources.
2. Offer visitors high quality content and resources
With greater expectations to access expert advice and knowledge online, search engines are continuously looking for captivating, relevant content they can use in their search results. The best way for search engines like Google to approach this is by offering searchers suitable content that solves the queries they have. Search engines will prioritise the websites containing content that is optimised to attract visitors.
Although the largest part of your marketing budget will focus on the content creation itself, it's crucial to ensure you have strategically tailored your content plan to address the needs of your target audience. Essentially, content should increase your visibility online so that you are easily found by the right people, at the right time; providing the best information. The format of your content assets should depend on your target audience and their interests.
Here are two popular forms of content adopted by B2B companies:
Blogging: Company blogs are a great way to interact and showcase your knowledge to your target audience. Not only does blogging drive traffic to your website, it converts that traffic into leads. Every single blog post is an opportunity to place a CTA, enticing visitors to click through to download a content offer in exchange for valuable personal information. Let's not forget the long-term opportunity and increased exposure blogging offers through search engines also. While it might feel your blogging efforts provide you with only short term rewards, optimised blogs can appear in search engines such as Google for months after being first published.
Content offers: Content offers are viewed as highly valuable and tend to be 'gated', i.e. visitors are required to provide information in exchange for access to the offer. People don't like to hand-over their information easily, which means your offer must address the problems and pain points your target audience face and offer them a solution. Content offers can come in the form of eBooks, guides, checklists and tip sheets to name a few.
3. Be socially connected and active
Social media is a prime location where people will search for and interact with your brand. Most potential customers will be active on their personal and corporate social media accounts, making it vital to integrate your B2B website content within your social presence to reap maximum exposure. To capitalise on your social return, make it easy for your followers to share your content on their profiles by making sure your social accounts highlight your most interesting and valuable content. This will increase your exposure, funnel website visitors and essentially support lead generation.
4. Grab all potential leads
As a B2B marketer, it's important to have a plan set up that not only entices website visitors but also capture's their information and converts them into leads. The aim is to capitalize on every single website visit.
Here are the 3 elements that determine your capacity to capture the maximum number of B2B leads.
A call to action is used to encourage a visitor to click through to your website, leading them further down your sales funnel. The performance of a CTA is a vital part of an inbound marketing plan, enabling companies to easily gauge their conversion performance. CTA's not only have to be well positioned and visually appealing, but differ in font, colour and design on each page to make sure they stand out to the user and don't look monotonous.
A/B testing offers a clearer insight into how your prospects are engaging with your website, highlighting areas that with improvement, could greatly increase your conversions. You might be surprised, even the smallest of changes can dramatically improve your CTA performance.
Tip: Always use an action word to begin the CTA, such as 'Download Now' and 'Click Here'.
Landing pages are the predominant force in determining how successful your B2B marketing strategy is and are essentially your lead capture machine. A landing page is designed specifically to capture website visitors and convert them into leads. Marketers tend to focus their resources in landing pages with a bid to drive traffic to these conversion pages.
The design of a landing page should be minimal and straight forward to reduce distractions for visitors. Remove navigation and any other factors that might take away from your offer and deter prospects from clicking through to download. Elements such as an eye-catching image, catchy headlines and outlining the benefits to be gained from the offer can all improve landing page performance.
Like CTA's, to optimise your landing page, it's advised to carry out A/B type testing to trial different approaches, making sure you monitor the results to determine what works and what doesn't.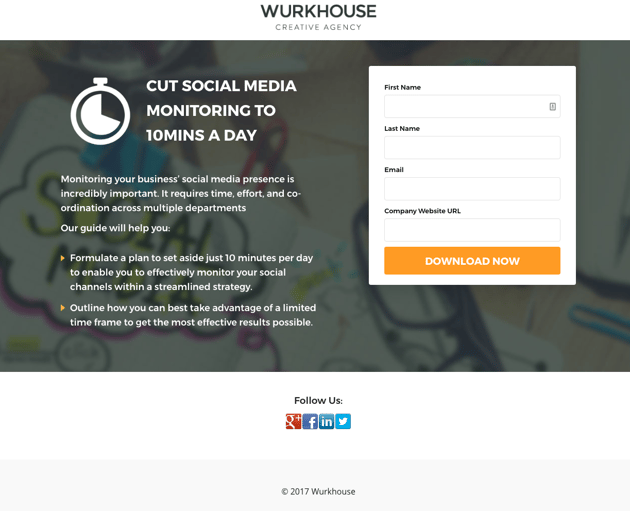 Landing page example
The length and design of a form must mirror both what the company themselves require (lead info) and what the prospect wants to receive (offer). Firstly, make sure that the gated content behind the form is of high value and reflects the level of personal details you are asking from visitors. When creating a form, only input information fields that you really need, keeping the length to a minimum. Form conversion rate can also be increased by clearly stating the value of the offer.
According to Unbounce.com, including a phone number field results in a 5% drop in B2B conversion rate, with many people rejecting the possibility of a company calling them.
Your website is your greatest asset and when it comes to B2B lead generation, it's important to capitalise on every site visit. To grab visitors, it's important to create consistent, high quality and visually appealing pages to present your company and brand image in the best possible light. With visitors landing on your website on various pages, ensure each page is "lead capture" optimised to avoid losing any potential sales.