Advantages of Ecommerce over traditional retail
Would you like to expand your current retail business? Maybe you've contemplated the idea of ecommerce but are hesitant to take the next step? With more customers now purchasing online than ever before, building an online store is a sure-fire way to expand your business reach, target new customers and increase sales.
Ecommerce has revolutionised the way companies are doing business. Consumers can purchase online 24/7 from the comfort of their own homes, around their busy schedules, without worrying about setting opening hours, which will naturally boost the level of orders and sales.
Better customer experience
Buying online has become second nature for most tech savvy shoppers. Not only can customers conveniently purchase from the comfort of their own home, they can do so 24 hours a day to fit within their busy schedules. The appeal of avoiding queues and pushy sales people certainly entices shoppers to opt for the ease of searching for their favourite products online. The growing popularity of live chat features means there's always customer support on hand to negotiate any problems encountered when making an order.
Learn how to increase sales with an Instagram eCommerce strategy
Monitor customer buying habits
A hugely valuable asset of adopting Ecommerce is the huge pool of data available on your consumers buying habits. Constantly monitor which products consumers have purchased and tailor offers to suit their preferences. This encourages shoppers to return to your site, offering brands a great opportunity to build long lasting relationships and build retained custom.
A personal approach
Offering a stand out ecommerce experience has never been so important. With retail continuously on the rise, it can be difficult to differentiate your brand from competitors by offering a unique shopping experience.
As mentioned above, with ecommerce, you can gather and analyse customer data much easier than traditional channels. Monitor customers purchasing behaviour to tailor marketing strategies, such as offering suggested products based on previous purchases and remarketing products a customer had added to their bag but did not proceed to purchase. Build customer loyalty programmes and offer promotions and discounts based on the information you have collected, like birthday's, frequently purchased products, add-ons or recommendations.
Let happy customers do the selling for you
Most Ecommerce sites encourage customers to leave reviews and product ratings based on their shopping experience and overall level of satisfaction with their purchase. If you're lucky enough to receive positive feedback and reviews, your customers will do the selling for you. It's worth sharing customer testimonials on your website and social channels to increase trust and establish credibility with prospects.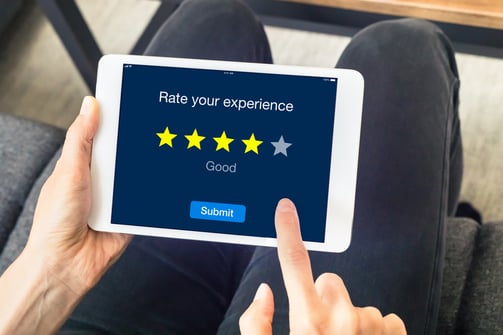 Online Review
Growth opportunities
One of the major benefits of Ecommerce is the opportunity to scale in accordance with business development. Should your customer base grow or diversify, it's a much smoother process to expand online. For example, if you notice that a large portion of website traffic is coming from a specific loaction, it's much easier to optimise your website domain structure and adopt an international SEO strategy to effectively serve all users regardless of location.
The same goes for advertising. Easily adjust your strategy to reflect growth changes; target specific locations, reach new markets and promote new products.
Advertising & Marketing
Promotion of physical retail stores is run on branding, referrals, building relationships and traditional advertising methods. With ecommerce, there's much greater opportunity to effectively market and measure the return from advertising efforts. Drive targeted traffic to your website organically through SEO, or pay for instant traffic with Pay Per Click (PPC). Engage with your audience on social media and by sending helpful email newsletters. Use valuable content to build relationships, establish your brand as an industry leader and solve your customer pain-points.
⇒ Learn more about ecommerce marketing strategies
If your target audience 'hang out' online, building an ecommerce store is a no brainer. Ecommerce promises huge benefits for both retailers and customers, with the ability to reach customers without geographical limitations, restricted opening hours and the ability to personalise the shopping experience for your audience.
Concerned about launching an ecommerce store or unsure if branching out online is the right fit for your brand? Reach out to our experienced team at hello@wurkhouse.com