Top 5 Social Media Scheduling Tools
Time flies when you're a busy marketer, eh? We meet so many digital marketers and business owners who have great intentions of sticking to their social media strategy and posting schedule, only to lose focus as time restrictions emerge. What's the only way to be strict on your posting plan? Scheduling tools! Not only are these tools efficient, you can visually plan, schedule, monitor and analyse post performance data too to inform your posting strategy going forward. Identify which types of content resonate with your audience and what days/time your audience are actively engaging with your posts the most.
With so many scheduling tools available, you could spend hours mining through the options, weighing up the key features of each. Luckily, you don't have to do that – we've done the hard work for you!
Later Media
While Later Media enables publishing to Facebook, Twitter, Pinterest – the platform is especially effective for Instagram scheduling. Visually plan out your photos to remain consistent in your styling and image flow, schedule in advance to save time and make improvements based on valuable data on post-performance. For small businesses, a free plan may very well suffice; allowing users to connect one profile for each platform (Facebook, Twitter, Instagram and Pinterest) and schedule up to 30 posts to each profile per month. However, if you want to schedule Instagram stories, videos, multi-photo posts and more, you'll need to pay a small monthly fee.
Learn more: https://app.later.com/plans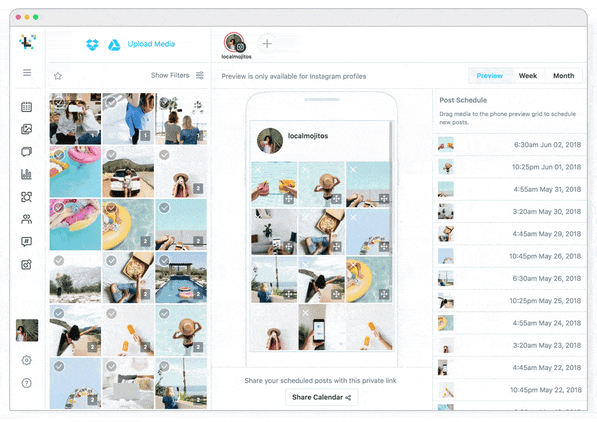 Source: app.later.com
Smarterqueue
The ultimate tool for maximising the long-term impact of your social media posts, Smarterqueue's winning feature has got to be 'Evergreen Recycling'. Reuse your best content so your posting queue never runs out, plus each time you recycle your posts, it will be seen by new parts of your audience – win win! Content curation and organisation has never been easier, with Smarterqueue's powerful search feature allowing users to find, bookmark and share great content. Ditch the excel spreadsheets and instead categorise (and colour-code) your different types of content to organise your posting plan and learn what works best with your audience.
Learn more: http://smarterqueue.com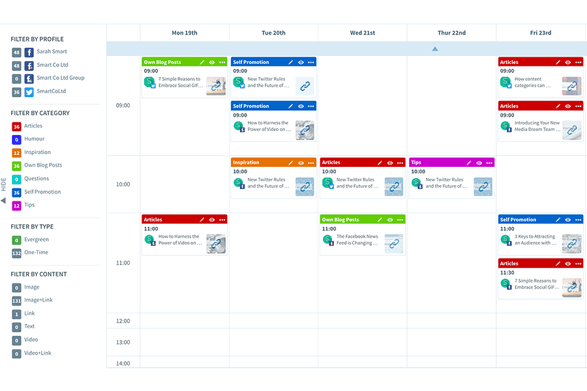 Source: Smarterqueue.com
Hootsuite
For many of us, Hootsuite will be the first social media scheduling tool we ever used, and it's one-stop management features are still as good as ever. Search and filter published social media posts to find brand mentions, add social media live newsfeed streams to your dashboard and schedule posts from multiple profiles across all social media sites. For small businesses, Hootsuite's free plan is more than sufficient – permitting 3 social profiles, 30 scheduled messages and 1 user.
Learn more: https://hootsuite.com/en-gb/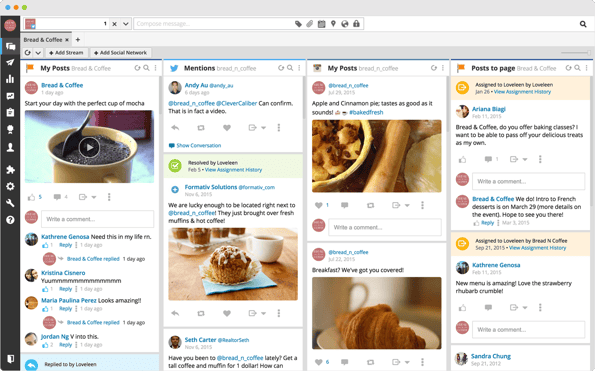 Source: Hootsuite.com
Sprout Social
For brands looking to fine tune their social presence, look no further than Sprout Social. From listening and publishing to engagement and analytics, all the features you need are included. The basic plan includes some impressive features which allow users to monitor and engage with comments, real time monitor keywords, hashtags and location searches on Twitter and set tasks for yourself and your co-workers to follow up with social messages.
Learn more: https://sproutsocial.com/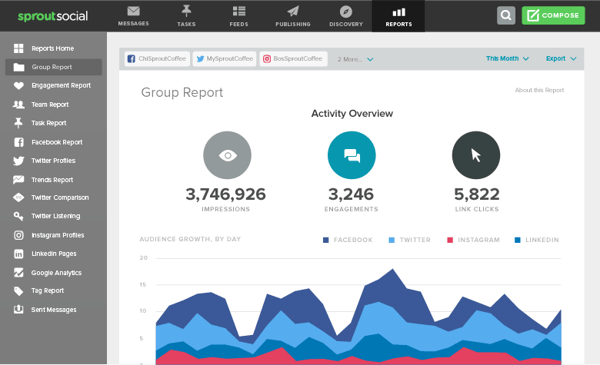 Source: sproutsocial.com
CoSchedule
Bring all your marketing together and create efficiency in your marketing team with CoSchedule. The CoSchedule software integrates with WordPress, allowing you to publish and promote content to your social media accounts simultaneously. There's a top content report feature which helps identify which pieces of content are generating the most engagement and interest with your followers. Their requeue auto-fill is pretty cool too, helping you fill in the gaps in your posting schedule.
Learn more: https://coschedule.com/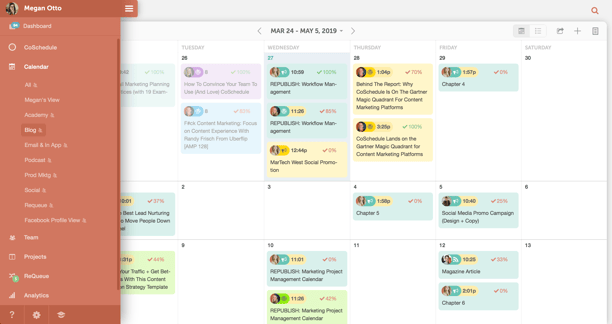 Source: coschedule.com
There we have it, a round up of our favourite social media scheduling tools. With the opportunity to maximise the impact of your social posts, increase efficiency and cut down on time, it's a no brainer for social media marketers to adopt a scheduling tool!