It's no secret that marketers focus heavily on Google. Ranking on the 1st page of Google is where every business aspires to be. Regardless whether you're an in-house marketer or agency, B2B or B2C, Google has a range of tools that can help improve your marketing efforts.
Here's our 5 Top Google marketing tools that every marketer should be using.
Google Ads
Google Ads (formerly known as Google AdWords) is Google's online and pay-per-click (PPC) advertising platform. Use Google Ads to create online advertisements to drive traffic or increase conversions for your business.
Use Google Ads to track essential metrics including Click-through rate (CTR), conversions and Impressions.
Within Google Ads you'll also want to make use of the Keyword Planner tool. Keyword planner allows users to identify relevant keywords to target and provides suggested words based on your searches. Keyword planner suggestions will include monthly search volume and difficultly, so users can make an informed decision if these keywords will be the best fit for their campaign budget.
Here are 8 tips for a better PPC Performance
Google Alerts
Being reactive is a crucial part of marketing, think of those fantastic tongue in cheek social post's we have seen over the years, even this month the recent temporary shutdown of Instagram, WhatsApp and Facebook resulted in an out pour of memes and the trending of hashtags #SocialMediaDown
How can you be more reactive and stay up to date with industry news and changes? Using Google Alerts is one of the easiest methods of staying up to date.
Simply visit Google Alerts, type in what you would like to be alerted on I.e., "Instagram Updates", select which Gmail address you would like the alerts sent to and that's it. You'll now have instant access to industry updates or changes!
Google Analytics
Evaluating the performance of your website is essential for a successful business. For example, if a page on your website has an abnormally high bounce rate, it's likely that there's a problem with that page.
Google Analytics is a free tool that allows you to track website performance and provides key information including sessions, bounce rate and what's the most visited web pages on your site. Knowing how users find your website and how they navigate your site could provide a deeper insight into your target audience. Monitoring your analytics overtime will give deeper insights into your customer base.
Reports and dashboards can be easily created using Google Analytics for sharing across relevant teams within your organisation.
Google Trends
Google Trends Is a great way of identifying trending topics, news and content. Similar to Google Keyword Planner, Google Trends can be used to help you select Keywords that are more relevant to your target audience or that your target audience have been searching for.
Use the tool to compare keywords amongst each other to determine which keyword is more popular. Google trends will also show related keywords which can help identify new keyword's.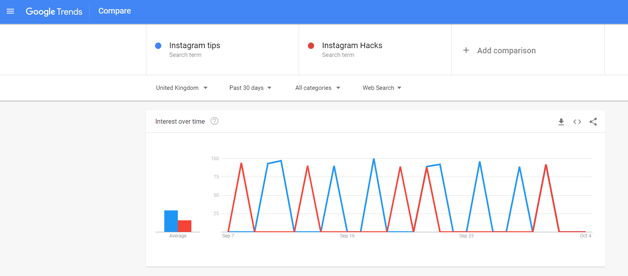 Example of the Google Trends comparison tool
Google News is another tool you may want to check out for identifying relevant news in your industry.
Google My Business
Google my business is the perfect opportunity to get some free advertising while keeping your customers up to date with essential information such as location, opening hours, pricing and contact information. Businesses can also add COVID-19 Updates including any measures that have been put in place to protect customers and staff. All of this information is essential as this could be what your target audience searches for to find your business, for example if a customer searches '...near me', Google will examine your business details to determine if your result is the best match for the customer's query.
What makes Google My Business so great for marketing is that businesses don't have to pay to have their profile featured.
Enjoyed this blog? Why not check out 10 advanced tips to take your SEO strategy to the next level.