Ecommerce trends to watch out for in 2019
The Ecommerce industry is constantly growing, all the while changing. Mobile usage, shifting customer demands and advanced technologies have certainly kept ecommerce brands on their toes in 2018 and 2019 is set to be the same. Being well versed on emerging trends, customer preferences and behaviour is a must in order to prepare and adapt ecommerce strategies accordingly.
Ecommerce is changing. Mobile conversions are rising, social media ecommerce is booming, personalisation is a must and the use of artificial intelligence is exploding. It's very much a case of 'keep up or get left behind' for ecommerce brands in today's online world.
Let's take a look at the up and coming trends to make sure you get ahead of your competition in 2019.
Omni Channel Personalisation
It won't be enough to just be available on multiple channels, brands will also be expected to deliver a consistent experience across all platforms. Be sure to personalise interactions at every customer touchpoint, in other words, make sure to identify with customers as the same person on each channel.
In 2019, you don't want to risk creating irrelevant experiences that will only frustrate your audience. Personalisation is the key to resonating with your customers, building trust and creating meaningful experiences that lead to those all-important conversions.
Learn more from the ultimate guide to eCommerce success
Shoppable Social Posts
While Instagram does not yet offer native ecommerce features, we expect further developments to their ecommerce friendly features over the coming months. The photo app has become an ecommerce hub with engaging shoppable posts and stories enabling users to click through to access further product info before clicking 'shop now' to make a purchase on a brands website – a great way for ecommerce sellers to market themselves and boost sales.
It's predicted that Instagram will take their Ecommerce capabilities a step further by launching their own 'Instagram Shopping' app, allowing users to make purchases from their favourite brand within the app.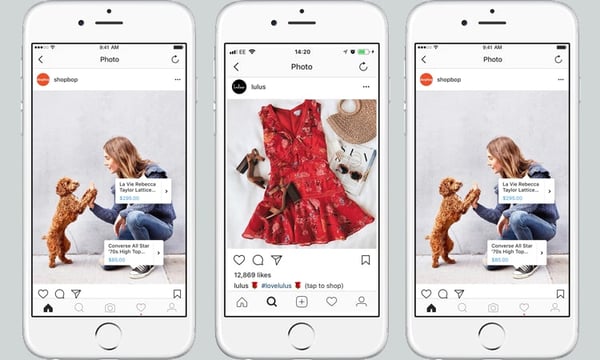 Instagram shopping posts. Source: Marketing Week
AI and Chatbots
In 2019, robots are expected to dominate the world of ecommerce. Chatbots are designed to improve customer experience by reducing the level of human interaction needed to deal with queries. This is especially important for ecommerce, with the vast volume of online shoppers purchasing 24 hours a day. AI assistants can help eliminate manual tasks such as managing inventory, freeing up time for workers to focus on other areas of the business.
We predict the level of chatbots personalisation capabilities to continue to soar in 2019, providing customers with a more customised conversational experience with bots. Bots will progress to help website visitors easily meet their end goal all the while providing them with an optimised experience by offering personalised content and guided conversations.
Interactive Product Visualisation
Have you ever hesitated at the final stages of your purchase because you're unsure if the product fits exactly what you're looking for? As customers, we've developed a strong need to interact with a product before committing to a new purchase; perhaps this is down to a lack of trust or familiarity with traditional in store buying. Customers prefer to hold and see a product up close before taking the next step of inputting their payment information.
Check out the latest eCommerce web design trends
Luckily, with advances in virtual and augmented reality, consumers can experience a product from their smartphone or laptop. Ecommerce brands look set to continue offering visitors product virtual reality and immersive 360 – degree shopping experiences to alleviate purchasing hesitation, following suit from brands including Ray - Ban and L'Oreal.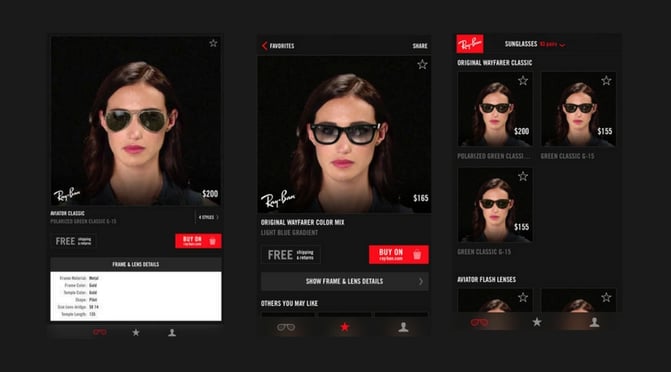 Ray Ban use a virtual 'Try on Glasses' tool. Image source: Apple iTunes
Multi-channel Selling
Channel loyalty has become a thing of the past, with more customers exploring various channels before making a purchase. Multi-channel selling involves selling on more than one sales channel, ensuring brands reach their target audience wherever they are searching, whether that's social media, price comparison websites or marketplaces.
It's predicted that more ecommerce stores will adapt a multi selling strategy in 2019, helping them target buyers regardless of which stage of the purchasing journey they are. The majority of consumers aren't ready to make a purchase straight away, which is why it's important to create multiple touch points on different channels along the way.
Read also about the KPIs you should be reporting
Final thoughts...
2019 looks set to be another demanding year for ecommerce brands with further advancements in technology, ever changing customer preferences and the competitive nature of the industry. Ecommerce brands must keep up with emerging trends to avoid the risk of losing sales and being left behind in the race to winning new online customers and retaining current ones.